Graphite and Carbon Parts For Cement Industries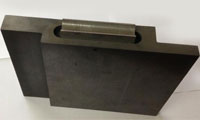 Our partners are manufacturer of Graphite products in INDIA from last 45 years. We manufacture CARBON & GRAPHITE products which are used in cement industry. Some of our products are as under.
» Graphite Blocks & Plates for Kiln support Roller lubricator – Dryer lubrication.
» Graphite Blocks & Plates used in the Kiln Inlet & Outlet Seal.
» Split Carbon Seal Rings for F.K. Pump.
» Carbon, Graphite Brushes for Electrical Motors.
» Carbon & Graphite Bushes.
» Rotating Graphite Rings for HSD Pumps.
» Graphite Segment rings for Cooler Drive Shaft.
» Graphite sticks for Lubrication
» Flexile Graphite rings
Graphite plates and blocks are used in kiln plant where lubrication is required. Depending upon the specific application, we manufacture the Graphite parts in different grades.
Composed of synthetic, lubricant quality graphite specifically designed to lubricate Trunnion Rolls, Riding Rings, Tires and Insert Seals on Rotary Kilns, Calciners and Dryers where a dry lubricant is needed.
Advantages
-Graphite Blocks simply ride against the rotating surface in a holder where the weight of the block deposits the graphite lubricant on the load-bearing surface.
-Graphite Blocks are custom cut to your specific requirements in order to maximize the benefits and performance.
AMARDEEP STEEL CENTRE regularly exports graphite blocks to various countries like Kuwait, UAE, UK, Iran, Iraq, Qatar, Bahrain, Oman, Yemen, Lebanon, Jordan, Saudi Arabia, Malaysia, Indonesia, Singapore, Australia, New Zealand, USA, Canada, Mexico, Brazil, Netherlands, Germany, Italy, Spain, Serbia, Peru, Nigeria, Poland, South Africa, Denmark, Turkey, Egypt, Venezuela, Madagar AMARDEEP STEEL CENTRE, Srilanka.