Carbon Pads, Carbon Thrust Bearings, Carbon Bushings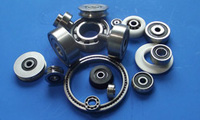 We manufacture Carbon thrust bearings, Carbon pads, Carbon bushings which are used in submersible pumps.
Carbon material is used in submersible pumps for its self-lubrication property, it also improves the life of the thrust bearing and all the other parts of the pump. Carbon has high strength and it offers excellent resistance against heat and pressure.
Carbon is the only material which is suitable for wear parts in submersible pumps such as thrust bearings and axial bushes due to its excellent properties such as:
1) High wear resistance.
2) Self-lubricating.
3) Resistance to corrosion.
4) Low thermal expansion.
5) Dry running properties.
6) Good thermal conductivity.

Applications
Used in submersible pumps for lifting water from deep water bore wells. We can supply carbon graphite thrust pads & bearings for V-3, V-4, V-6, V-8, V-10 motors
Power saving benefits
» Motor runs using less amperes thus saves electricity up to 10%.
» The annual saving of electricity is almost equal to the pump cost
Increase in pump efficiency up to 5%
» More output of water as there is no friction loss and we get maximum(full) rpm.
» Desired water is obtained in less time thus pump needs to runs for less time
Other benefits:
» The motor with carbon thrust bearing and bushing starts immediately even after prolonged rest.
» The motor does not vibrate.
» The motor runs without noise.
Features
» Machined with necessary tolerances within 20 microns.
» Lapped up to 3 light bands.
» Can be supplied in any quantity as per requirement.
» Can be made as per customers required sizes and grades.
» Temperature resistance up to 300 deg C.
AMARDEEP STEEL CENTRE can supply Carbon pads or Carbon Graphite bushings in Carbon graphite or metal‐carbon grades, in any sizes as per customer's requirement. AMARDEEP STEEL CENTRE regularly exports CARBON PADS OR Carbon Graphite bushings to various countries like Kuwait, UAE, UK, Iran, Iraq, Qatar, Bahrain, Oman, Yemen, Lebanon, Jordan, Saudi Arabia, Malaysia, Indonesia, Singapore, Australia, New Zealand, USA, Canada, Mexico, Brazil, Netherlands, Germany, Italy, Spain, Serbia, Peru, Nigeria, Poland, South Africa, Denmark, Turkey, Egypt, Venezuela, Madagar AMARDEEP STEEL CENTRE, Srilanka.