ASTM A519 Grade 4130 Steel Tubing & Pipe Supplier
4130 Tubing, ASTM A519 Grade 4130 Steel Tubing Supplier, A519 4130 Pipe, ASTM A519 Gr 4130 Seamless Pipes, ASME SA 519 Grade 4130, A519 Grade 4130 Seamless Tubing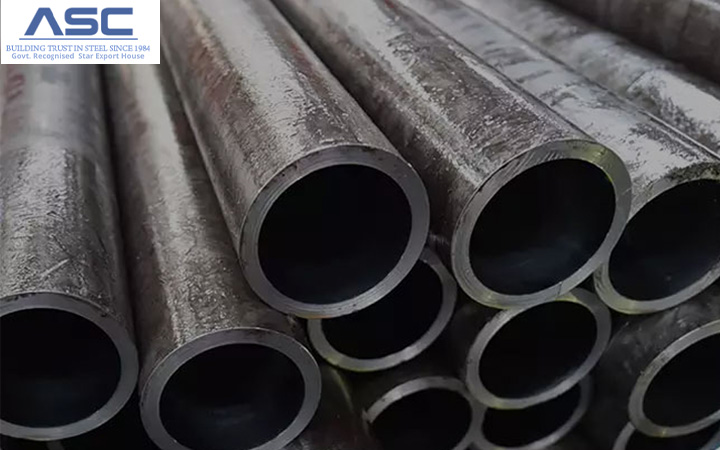 Amardeep Steel Centre is a well-known Supplier & Manufacturer of ASTM A519 GR 4130 Tubing & Pipes, which have a lot of good characteristics such as precision design, durability, rust resistance, and more. In addition, we supply and stock these insulating steam heating pipes in response to customer requirements. Customers can also obtain this ASME SA 519 GR 4130 Steam Boiler Tubing in a variety of specifications at reasonable prices. We sell ASME SA 519 Boiler Pipes GR. 4130 at a competitive price. Our excellent array of ASTM A519 GR 4130 Steam Boiler Piping exemplifies both excellence and substance. ASME SA 519 GR 4130 Boiler Tubing also offers a number of noteworthy benefits such as on-time completion, customised services, flexible execution, and so on. To meet the diverse needs of our customers,
we offer an incredibly durable collection of ASME SA 519 GR.4130 Boiler Piping that is mass-produced with precision. This ASTM A519 GR 4130 Boiler Tubing is precisely manufactured and exceptionally durable. Our ASTM A519 GR 4130 Boiler Piping is also used in a variety of sectors like drainage, water supply, oil and gas applications, and many more. ASME SA 519 GR.4130 Boiler Tubes are also widely utilised in a variety of industries and household channels. These ASME SA 519 GR.4130 Boiler Pipes are used in transmission line, framing, reinforcing, bracket, and trimming applications.

Steel grade 4130 ASTM A519 Steel Rectangular Tubing comprises chromium and molybdenum as strengthening agents in its alloy. Because of its low carbon content, ASTM A519 4130 Steel Chromoly Tubing can be easily welded. All commercial processes can be used to weld steel tubes made from the alloy ASTM A519 Grade 4130. The Chrome Moly Steel ASTM A519 4130 Boiler Tubing material is easily machined using standard processes. However, as the hardness of this steel grade is increased, machining the A519 gr 4130 Seamless Steel Tubing material becomes problematic. The steel ASTM A519 Grade 4130 can be formed in an annealed state. We are committed to offering ASTM A519 GR. 4130 Boiler Tubes to our esteemed customers based on our extensive industry knowledge and experience.
A519 4130 Tubing Specification
| | |
| --- | --- |
| Standard | ASTM A519 / ASME SA 519 |
| ASTM A519 | Standard Specification covers both seamless hot-finished mechanical tubing and seamless cold-finished mechanical tubing |
| Size | 2″ – 12" |
| Outer Diameter | 21 to 426 mm |
| Wall Thickness | 2 to 50 mm |
| Schedule | 20, 30, 40, Standard (STD), Extra Heavy (XH), 80, 100, 120, 140, 160, XXH & heavier |
| Shape | round, square,rectangular and special sections. |
| Length | Not more than 12 m |
| Grade | AISI 4130, L80, L110 |
ASTM A519 Grade 4130 Steel Tubing Types -
ASTM A519 4130 Hot Finished Tubing stockist, Chrome Moly Steel ASTM A519 4130 Boiler Tubing, ASTM A519 Grade 4130 Mechanical Tubing, ASTM A519 4130 Steel Chromoly Tubing suppliers in India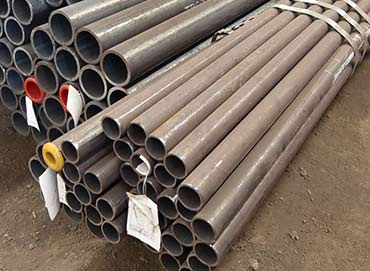 ASTM A519 Grade 4130 Pipe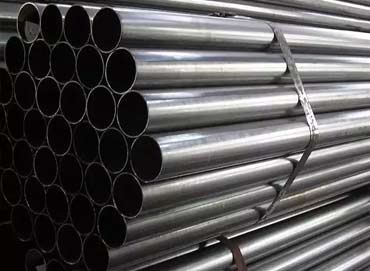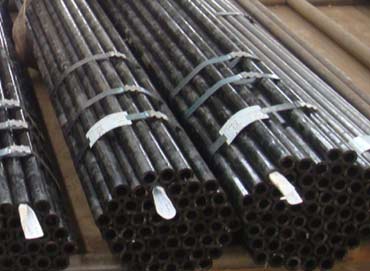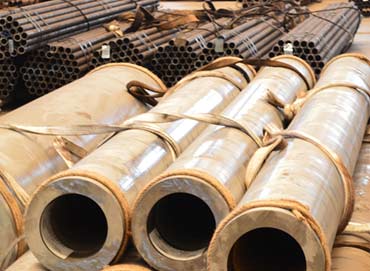 4130 Seamless Alloy Steel
ASTM A519 / ASME 519 Gr.4130 Boiler Tubes Equivalent Material -
| | |
| --- | --- |
| Grade | ASTM A519 AISI 4130 |
| UNS | G41300 |
| DIN | 1.7218 |
| EN | 25CrMo4 |
| JIS | JIS G4105 |
| BS | BS 970 |
A519 4130 Tubing Chemical Composition
4130
C
Mn
P
S
Si
Cr
Mo
0.28-0.30
0.4-0.6
0.040 max
0.040 max
0.15-0.35
0.80-1.10
0.15-0.25
ASTM A519 / ASME 519 Gr.4130 Tube & Pipe Mechanical Properties
Grade
Condition
Tensile Strength
Mpa
Yield Strength
MPa
Elongation %
Hardness Hb
4130
Hot Rolled
621
483
20%
89
Stress Relieved
724
586
10%
95
Annealed
517
379
30%
81
Normalized
621
414
20%
89
Outside Diameter Tolerances for ASTM A519 Grade 4130 Tubing
OD Size Range, In. (mm)
OD Tolerance, in. (mm)
Over (+)
Under (-)
up to 2.999 (76.17)
0.020 (0.51)
0.020 (0.51)
3.000-4.499 (76.20-114.27)
0.025 (0.64)
0.025 (0.64)
4.500–5.999 (114.30–152.37)
0.031 (0.79)
0.031 (0.79)
6.000–7.499 (152.40–190.47)
0.037 (0.94)
0.037 (0.94)
7.500–8.999 (190.50–228.57)
0.045 (1.14)
0.045 (1.14)
9.000–10.750 (228.60–273.05)
0.050 (1.27)
0.050 (1.27)
Diameter tolerances are not applicable to normalized and tempered or quenched and tempered conditions.
The common range of sizes of hot finished tubes is 11⁄2 in. (38.1 mm) to 103⁄4 in. (273.0 mm) outside diameter with wall thickness at least 3 % or more of outside diameter, but not less than 0.095 in. (2.41 mm).
Larger sizes are available; consult manufacturer for sizes and tolerances.
Wall Thickness Tolerance for UNS G41300 Steel round Hot Finished Tube
WT Range as Percent of OD
percent Over A and Under Nominal
OD 2.999 in. (76.19 mm) and smaller
OD 3.000 in. (76.20 mm) to 5.999 in. (152.37 mm)
OD 6.000 in. (152.40 mm) to 10.750 in. (273.05 mm)
Under 15
12.5
10
10
15 and over
10
7.5
10
A Wall thickness tolerance may not be applicable to walls 0.199 in. (5.05 mm) and less; consult manufacturer for wall tolerances on such tube sizes.
Cold Finished 4130 Chromoly Steel Tubing Wall Thickness Tolerance
Wall Thickness S / OD D (%)
Tolerance (±%)
ID D<38.1mm
ID ≥38.1
≤25%
10.0
7.5
>25%
12.5
10.0
Physical Strength of Seamless Alloy Steel Tube ASTM A519 grade 4130
Grade
ASTM A519 AISI 4130
Metric
Imperial
Density
7.85 g/cm3
0.284 lb/in³
Melting point
1432°C
2610°F
Mechanical Test Requirements:
Mill test certificates will be issued in accordance with EN10204.3. All tubes will be supplied in accordance with the corresponding ASTM A519 specification.

The tubes must be seamless, and the mechanical testing methods and definitions for steel products must be followed.

Orders for material under A519 should include the following information: Quantity (feet, weight, or number of pieces), Material Name (seamless carbon or alloy steel mechanical tube), and Form (round, square, rectangular or special shapes). A519 material orders must include a delivery condition (A, N, QT, SR).
Packing and Marking
Bundled, wrapped in plastic, and adequately protected for seaworthy delivery or as specified.

Marking should be done in line with MIL-STD-129 for military agencies and Fed. Std. No.123 for civil agencies, including but not limited to: Standard, graded, size, heat number, lot number
Other types of A519 Grade 4130 Tubes
| | |
| --- | --- |
| ASTM A519 Grade 4130 Pipe | A519 Grade 4130 Tube |
| 4130 chromoly Tubing | 4130 Seamless Chromoly Tubing |
| 4130 Seamless Alloy Steel Tubing | 4130 Seamless Tubing |
We Export A519 Grade 4130 Tubing To
Angola, Lebanon, Jordan, Argentina, United Arab Emirates, Iraq, Denmark, Iran, Philippines, Qatar, Kazakhstan, Bolivia, Trinidad & Tobago,Tunisia, Macau, Israel, Afghanistan, Taiwan, Poland, Saudi Arabia, Slovakia, Zimbabwe, Ireland, Bangladesh, Belarus, Spain, Nigeria, Portugal, Singapore, Bahrain, Kenya, China, United Kingdom, Sweden, Algeria, Chile, Nepal, Yemen, Chile, Egypt, India, Pakistan, Netherlands, Namibia, Gambia, Finland, Mexico, Thailand, Ghana, Switzerland, Serbia, Russia, Sri Lanka, Gabon, Czech Republic, Morocco, France, Venezuela, Greece, Japan, Lithuania, Ukraine, Germany, Costa Rica, Iran, Oman, Peru, Tibet, Estonia, Colombia, Australia, Turkey, Bulgaria, Italy, Ecuador, Malaysia, Indonesia, Vietnam, Mexico, Norway, Romania, Libya, South Africa, Hungary, Croatia, Belgium, Poland, Nigeria, Azerbaijan, Puerto Rico, South Korea, New Zealand, Kuwait, Canada, Bhutan, Austria, Mongolia, Hong Kong, United States, Brazil.
We Supply A519 Grade 4130 Tubing to
Surat, Cairo, Al Khobar, Caracas, Faridabad, Hanoi, New York, Ernakulam, Kolkata, Pimpri-Chinchwad, Houston, Kuala Lumpur, Pune, Colombo, Melbourne, Aberdeen, Bogota, Jamshedpur, Ankara, Rajkot, Navi Mumbai, Chennai, Calgary, Montreal, Ranchi, New Delhi, Coimbatore, Karachi, Granada, La Victoria, Thane, Perth, Ho Chi Minh City, Rio de Janeiro, Nagpur, Edmonton, Baroda, Haryana, Sharjah, Secunderabad, Santiago, Ludhiana, Muscat, Bhopal, Noida, Thiruvananthapuram, Kanpur, Milan, Los Angeles, Petaling Jaya, Gurgaon, Jakarta, Busan, Abu Dhabi, Hong Kong, Atyrau, Nashik, Bengaluru, Al Jubail, Vadodara, Singapore, Chandigarh, Lagos, Howrah, Hyderabad, Bangkok, Jaipur, Ahmedabad, Toronto, Gimhae-si, Chiyoda, Geoje-si, Riyadh, Sydney, Dallas, Kuwait City, London, Madrid, Istanbul, Ulsan, Indore, Mumbai, Visakhapatnam, Vung Tau, Jeddah, Brisbane, Ahvaz, Dammam, Manama, Port-of-Spain, Algiers, Lahore, Tehran, Seoul, Mexico City, Doha, Dubai, Courbevoie, Moscow.