SCM415 Alloy Steel Tube & Pipe Supplier
4SCM415 Steel Tube, ASTM SCM415 Tube, SCM415 Seamless Steel Tube, SCM415 Alloy Steel Chemical composition, Alloy Steel Round Bar SCM415, SCM415 Alloy Steel Mechanical Properties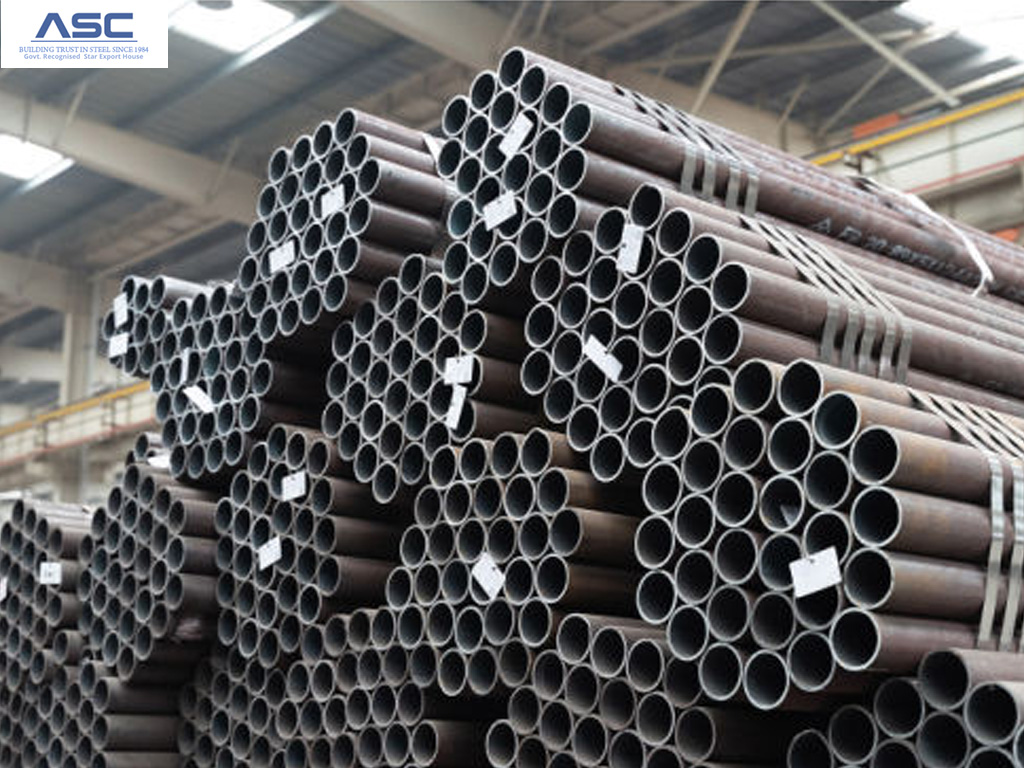 The Alloy Steel JIS G4105 SCM415 Pipes made by Amardeep Steel Centre are some of the best in the world. Items like cylinder pistons, crankshafts, gears, pins, shafts, and so on that need to be tough or wear-resistant are made out of SCM415 that has been carburized on the surface.

SCM415 Steel is a high-quality alloy structural steel that has been quenched and tempered. It is an oil-quenched and tempered steel with a hardness of 28-34 HRc and a medium carbon content. The hardness of SCM415 after annealing is less than 250HB.
SCM415 steel pipes can be hardened more and are not brittle when they are hot. It is unlikely that cold cracks will form, but the ability to be machined and the ability to be stretched when cold are both good. SCM415 alloy steel is very easy to weld. Alloy Steel JIS G4105 SCM415 seamless pipes in the condition of conditioning or carburizing and quenching are used to make high-pressure pipes and all kinds of fasteners, like gears, more senior carburized parts, shafts, and so on. These pipes are used in corrosive mediums and at temperatures below 250°C. JIS 4105 seamless pipe in the condition of conditioning or carburizing and quenching is used to make corrosive mediums that can be used at temperatures below 250 degrees Celsius. In the oil and gas industries, JIS G4105 steel pipe is used a lot.

JIS G4105 is a Japanese Industrial Standard that describes chromium-molybdenum steel, which is mostly used to build the structures of machines. Hot forming methods, such as forging and hot rolling, are used to make JIS G4105 SCM415 pipes. These pipes are often used after more forging, cutting, and heat treatment. This JIS G4105 alloy is better at getting hard and doesn't get brittle when it gets hot. Alloy Steel JIS G4105 SCM415 is easy to weld and has a low tendency to crack when it gets cold. It also has a high mability and cold plastic strain. JIS G4105 SCM 420 has good resistance to fatigue, impact, static strength, and the ability to get harder without getting too hot. But JIS G4105 pipe is hard to weld, so it needs to be heated to between 150 and 410 °C before welding. JIS G4105 SCM415 is used after it has been quenched and tempered at a high temperature. For many years, Tubos has been selling JIS G4105 SCM415 structural steel pipes. We have JIS G4105 Steel Pipes for sale at a low price. Please look over the JIS G4105 steel grades below.
SCM415 Alloy Steel Specification
Standard
JIS G 4105
Equivalent material
20CrMo, 25CrMo4 (1.7218), 40CrNiMoA, 4340, 817M40, 816M40
Percentage reduction of area
≥50
Impact (J/cm2)
≥78
Hardness
≤197HB
Heat treatment specification
850 ℃ quenching ,oil cooling; 500 ℃ tempering, water cooling, oil cooling.
Delivery condition
By heat treatment (normalizing, annealing and high temperature
tempering) or heat treatment state delivery, delivery status should be indicated in the contract.
SCM415 Alloy Steel Product Features
• High strength in room temperature and elevated temperature.
• High notch tolerance.
• Simplified design for bolting configuration

SCM415 Alloy Steel Equivalent Grade
| | | | | | | | |
| --- | --- | --- | --- | --- | --- | --- | --- |
| Standard | WERKSTOFF NR. | DIN | JIS | BS | GOST | AFNOR | GB |
| SCM 415 | 15CrMo4 | - | SCM415 | SCM415 | - | - | 15CrMo |
SCM415 Alloy Steel Chemical Composition
JIS G4051
C
Si
Mn
P
S
Ni
Cr
Mo
Cu
0.13-0.18
0.15-0.35
0.60-0.85
0.030 max
0.030 max
0.25 max
0.90-1.20
0.15-0.30
0.3 max
SCM415 Alloy Steel Mechanical Properties -
| | | | | | |
| --- | --- | --- | --- | --- | --- |
| Typical steel Elastic modulus | Bulk modulus (typical for steel)) | Yield strength | Tensile strength | Poisson's ratio | Melting point |
| GPa | GPa | Mpa | Mpa | | °C |
| 190-210 | 140 | 415 | 655 | 0.27-0.30 | 1416 |
SCM415 Alloy Steel Applications
It is used to build things like high-tensile shafts, bolts, nuts, gears, pinions, and spindles. Locomotive traction with the big gear, supercharger drive gear, pressure vessel, rear axle, gear load of connecting rod, and a spring clip. SCM415 can also be used to under 2000 m deep well of oil drill pipe joint and fishing Alloy, and can be used for bending machine mould, etc.
SCM415 Steel Heat Treatment Related
Conditions of heat treatment
• Annealing: 850℃ Furnace Cooling
• Normalization: 850~900℃ Air Cooling
• Hardening: 850~900℃ 1st Oil Cooling, 800~850℃ 2rd Oil Cooling
• Tempering: 150~200℃ Air Cooling

Heat Treatment Option
1 +A: Annealed (full/soft/spheroidizing)
2 +N: Normalized
3 +NT: Normalized and tempered
4 +QT: Quenched and tempered (water/oil)

Surface Option
• Black Surface
• Grounded: Bright but rough ; Not precision
• Machining for plate: Bright and precision; Little turning scar
• Peeled/Turned: Bright and precision; Little turning scar
• Polished: Very Bright and precision size; Not turning scar


Thermal Properties of JIS SCM415 Alloy Structure Steel -
| | | |
| --- | --- | --- |
| Thermal expansion co-efficient (@ 0-100°C/32-212°F) | 12.2 µm/m°C | 6.78 µin/in°F |
| Thermal conductivity (@ 100°C) | 42.6 W/mK | 296 BTU in/hr.ft².°F |
Other types of SCM415 Tubes
| | |
| --- | --- |
| Jis G4105 Scm440 | Jis G4105 Scm435 |
| Jis G4105 SCM415 | Jis G4105 Scm4 |
| Jis G4105 S45c | Jis G4105 Steel |
We Export SCM415 Alloy Steel Tubes To
Angola, Lebanon, Jordan, Argentina, United Arab Emirates, Iraq, Denmark, Iran, Philippines, Qatar, Kazakhstan, Bolivia, Trinidad & Tobago,Tunisia, Macau, Israel, Afghanistan, Taiwan, Poland, Saudi Arabia, Slovakia, Zimbabwe, Ireland, Bangladesh, Belarus, Spain, Nigeria, Portugal, Singapore, Bahrain, Kenya, China, United Kingdom, Sweden, Algeria, Chile, Nepal, Yemen, Chile, Egypt, India, Pakistan, Netherlands, Namibia, Gambia, Finland, Mexico, Thailand, Ghana, Switzerland, Serbia, Russia, Sri Lanka, Gabon, Czech Republic, Morocco, France, Venezuela, Greece, Japan, Lithuania, Ukraine, Germany, Costa Rica, Iran, Oman, Peru, Tibet, Estonia, Colombia, Australia, Turkey, Bulgaria, Italy, Ecuador, Malaysia, Indonesia, Vietnam, Mexico, Norway, Romania, Libya, South Africa, Hungary, Croatia, Belgium, Poland, Nigeria, Azerbaijan, Puerto Rico, South Korea, New Zealand, Kuwait, Canada, Bhutan, Austria, Mongolia, Hong Kong, United States, Brazil.
We Supply SCM415 Alloy Steel Tubes to
Surat, Cairo, Al Khobar, Caracas, Faridabad, Hanoi, New York, Ernakulam, Kolkata, Pimpri-Chinchwad, Houston, Kuala Lumpur, Pune, Colombo, Melbourne, Aberdeen, Bogota, Jamshedpur, Ankara, Rajkot, Navi Mumbai, Chennai, Calgary, Montreal, Ranchi, New Delhi, Coimbatore, Karachi, Granada, La Victoria, Thane, Perth, Ho Chi Minh City, Rio de Janeiro, Nagpur, Edmonton, Baroda, Haryana, Sharjah, Secunderabad, Santiago, Ludhiana, Muscat, Bhopal, Noida, Thiruvananthapuram, Kanpur, Milan, Los Angeles, Petaling Jaya, Gurgaon, Jakarta, Busan, Abu Dhabi, Hong Kong, Atyrau, Nashik, Bengaluru, Al Jubail, Vadodara, Singapore, Chandigarh, Lagos, Howrah, Hyderabad, Bangkok, Jaipur, Ahmedabad, Toronto, Gimhae-si, Chiyoda, Geoje-si, Riyadh, Sydney, Dallas, Kuwait City, London, Madrid, Istanbul, Ulsan, Indore, Mumbai, Visakhapatnam, Vung Tau, Jeddah, Brisbane, Ahvaz, Dammam, Manama, Port-of-Spain, Algiers, Lahore, Tehran, Seoul, Mexico City, Doha, Dubai, Courbevoie, Moscow.