ASTM A588 GR B Corten Steel Plates & Sheet Supplier
ASTM A588 Gr.B Corten Steel Plates, A588 Corten Grade B Plate & Sheet , A588 Corten B Plates Stockist,ASTM A588 Gr.B Weather Steel Plate & Sheet, ASTM A588 Gr B Corten Steel Sheets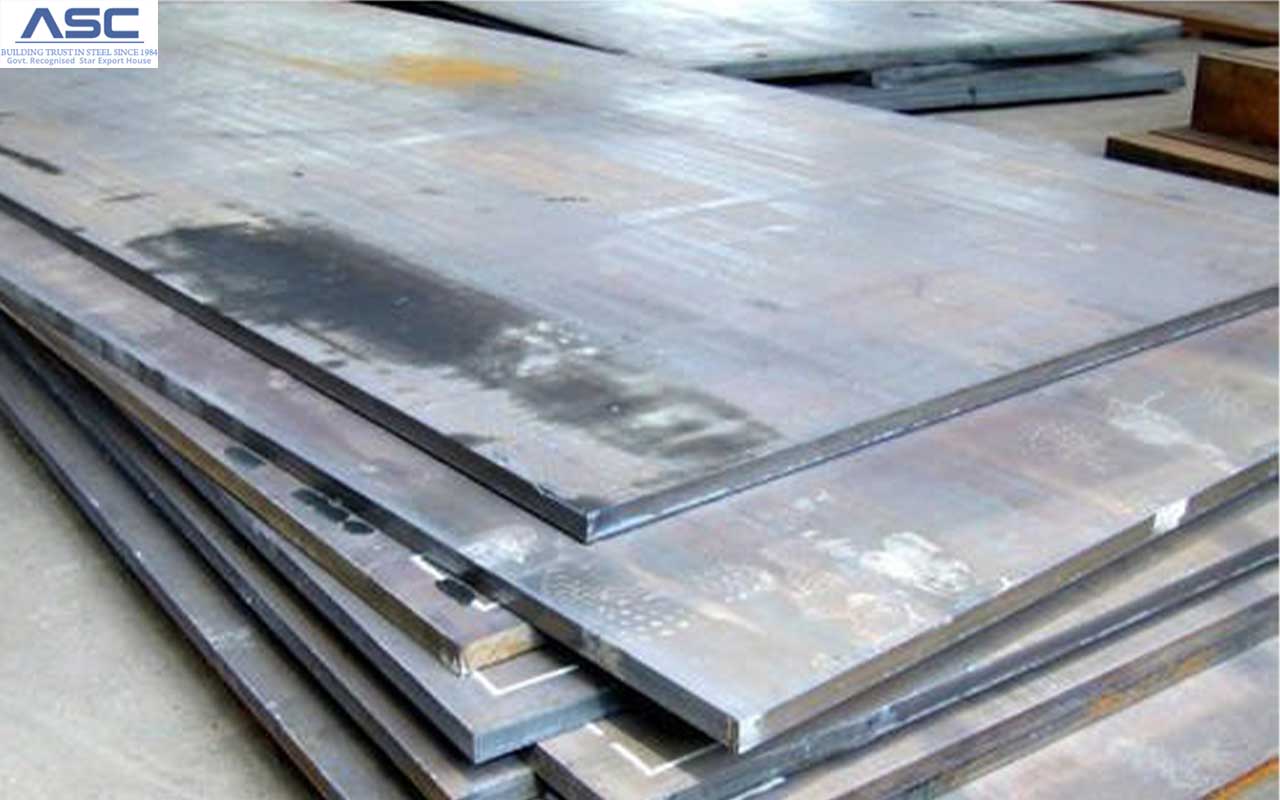 Amardeep is one of the leading supplier,Exporter & Manufacturer of ASTM A 588 GR.B Plates & Sheets. This product comes in many different shapes, sizes, grades, and specifications. We also give them to customers based on the sizes they ask for. The steel plates that meet the requirements of ASTM A588 are called ASTM A588 GR.B Corten Steel Plates. They are stronger and have a lower percentage of alloy throughout their structure. This grade is used a lot in the industry for many different things.

They have better yield strength and tensile strength, and they can stretch further than other materials. They are also resistant to corrosive environments and can easily handle the cracking and pitting that happens in corrosive places. They are more resistant to things like corrosion and can easily stop it from happening when things like oxidation, reduction, reactive chemicals, and toxic gases are present. It can stop the kind of corrosion that happens when these things happen.
They also work best in places where there is a lot of heat and the temperature is high. Not only that, but they are also the best for things like welding and being machined. They are easy to connect to other tools. They are very tough and durable, so they last a very long time. They are also very flexible, which makes it easier to shape them into wires.

They can be made in a number of different sizes and thicknesses. They can be used in even the harshest and most dangerous environments. Because of this, they are used in a lot of different industries. The ASTM A588 GR.B Corrosion Resistant Steel Plates are tested based on a number of criteria. Some of these tests are destructive, while others, like the elongation, spectro, impact, and firmness tests, are not.
ASTM A588 Gr.B Corten Steel Plate Specification :
| | |
| --- | --- |
| Grade | ASTM A588 Gr B Corten Steel Plates |
| Standard | ASTM A588 / ASME SA588 |
| Width | from 750mm to 1500mm |
| Length | upto 12,000mm |
| Thickness | from 0.8 mm to 50mm |
| Type | Corten Steel |
| Process | Hot-Rolled (HR) |
ASTM A588 Grade B Corten Steel Plates Chemical Composition -
Grade ASTM A588 GR.B
C
Mn
Cr
Si
N
Su
Cu
Ph
Ni
0.19 Max
0.80-1.25
0.40-0.65
0.30-0.65
0.010
0.040
0.25-0.40
0.05
0.05
ASTM A588 Corten Steel Gr B Corten Steel Plates Mechanical Properties -
Grade
Thickness
Yield Strength
ReH[N/mm2]transv.min
TensileStrength
Rm[N/mm2]transv
ASTM A588
0mm-100mm
340 MPa
480 MPa
102mm-127mm
320 MPa
460 MPa
127mm-203mm
290 MPa
430 MPa
Equivalent Standard For Corten Steel ASTM A588 Grade B Plate & Sheet -
APPLICATION
BRITISH STANDARD
JAPANESEJIS
GERMAN DIN
AMERICAN ASTM
AIR PRE HEATERS
BS-6323-5
BS-6323-6
JIS G 3445
DIN 17177
EN 10217-1 AND 2
EN 10305-2 AND 3
ASTM A423
GR.1
ASTM A214
Application Industries For Corten Steel ASTM A588 Grade B Plate & Sheet -
| | | | | |
| --- | --- | --- | --- | --- |
| Petrochemical | Oil & Gas | Paper | Refineries | Nuclear Power |
| Cement | Sugar | Power Plant | Fertilizers | Breweries |
| Chemical | Petrochemical | Shipbuilding | Defence | Mining |
| Steel Plant | Construction | Oil Mills | Paper | Engineering Co. |
Why Choose Amardeep Steel For Buying Corten Steel ASTM A588 Grade B Plate & Sheet?
• Amardeep steel is one of the leading exporter & Supplier of Corten Steel ASTM A588 Grade B Plate & Sheet
• Amardeep Steel is one of the largest manufacturers of corten steel Grade A plate & Sheet. we have a high production capacity for Corten Steel ASTM A588 Grade B Plate & Sheet which lets us serve to your large requirements.
• Amardeep steel centre has a ready stock of Corten Steel ASTM A588 Grade B Plate & Sheet. With ready stock of Corten Steel ASTM A588 Grade B Plate & Sheet. we can meet customers immediate demands and offer our high quality products for urgent requirements.
• We offer quickest delivery of Corten Steel ASTM A588 Grade B Plate & Sheet. Corten steel Grade A Plates & Sheets are delivered carefully and are well packed . we offer fastest delivery and can supplyCorten Steel ASTM A588 Grade B Plate & Sheet to any part of the world.
• High quality corten steel products. Amardeep steel is known for its high quality Corten Steel ASTM A588 Grade B Plate & Sheet. We offer highest quality corten steel products and at lowest prices to our customers and satisfy their demand.
• High quality services as per clients requirement.
Our Other Products -
ASTM A588 Gr.B Corten Steel Plates We Supply Globally
We Supply Our A588 Grade B Corten Steel Plate to various countries like Lebanon, Ireland, Malaysia, Hong Kong, Belarus, Ecuador, China, Chile, Mexico, Mongolia, Thailand, France, Japan, Greece, Zimbabwe, Algeria, Czech Republic, Bulgaria, Yemen, Brazil, Norway, Costa Rica, Italy, Austria, Chile, Angola, Nigeria, Iraq, Portugal, Bhutan, Kenya, Azerbaijan, Gabon, Netherlands, Jordan, Egypt, Denmark, Bangladesh, Canada, Trinidad & Tobago, New Zealand, Bahrain, Morocco, Tunisia, Philippines, Russia, Germany, Macau, Israel, Turkey, Switzerland, Croatia, Australia, Saudi Arabia, United Kingdom, Iran, Ukraine, United Arab Emirates, Poland, Peru, Romania, Colombia, Singapore, Hungary, Afghanistan, Venezuela, Oman, Puerto Rico, Slovakia, Sweden, Argentina, Gambia, Lithuania, Bolivia, Tibet, Ghana, Indonesia, Mexico, South Africa, Serbia, Pakistan, Poland, Vietnam, Namibia, Taiwan, Spain, Nigeria, Finland, Kazakhstan, United States, South Korea, Nepal, Belgium, Iran, India, Sri Lanka, Libya, Qatar, Estonia, Kuwait.
A588 Gr B Corten Steel Plates We Supply Worldwide :
We Supply Our ASTM A588 Grade B Steel Plate to various cities like Riyadh, Calgary, Granada, Navi Mumbai, Cairo, Ranchi, Haryana, Pune, Petaling Jaya, Nagpur, Tehran, Ho Chi Minh City, Faridabad, Lagos, Bengaluru, Seoul, Los Angeles, Chandigarh, Kolkata, Doha, Chennai, Caracas, Al Khobar, Houston, Nashik, Toronto, Mexico City, Coimbatore, Jamshedpur, Vung Tau, Dallas, Abu Dhabi, New Delhi, Kuala Lumpur, Montreal, Ahvaz, Howrah, Singapore, Gimhae-si, Aberdeen, Dammam, Brisbane, Kuwait City, Mumbai, Edmonton, Atyrau, Surat, Ahmedabad, Istanbul, Hong Kong, Karachi, Rio de Janeiro, Sydney, Perth, Manama, Ankara, Courbevoie, Hyderabad, Vadodara, Pimpri-Chinchwad, Jakarta, Baroda, Busan, Rajkot, Bogota, Chiyoda, Jeddah, London, Hanoi, Secunderabad, Jaipur, Colombo, Thane, Sharjah, Ernakulam, Bangkok, Al Jubail, Ludhiana, Thiruvananthapuram, Dubai, Algiers, Moscow, Milan, Visakhapatnam, Lahore, Port-of-Spain, Noida, Melbourne, Muscat, Kanpur, Indore, Ulsan, Geoje-si, Madrid, Bhopal, New York, La Victoria, Gurgaon, Santiago.