Corten Steel A Pipes & Tube Supplier
Corten Steel Supplier, corten A steel, Weathering steel A Pipe & Tube Supplier, Corten Steel A Pipes & Tube Dealer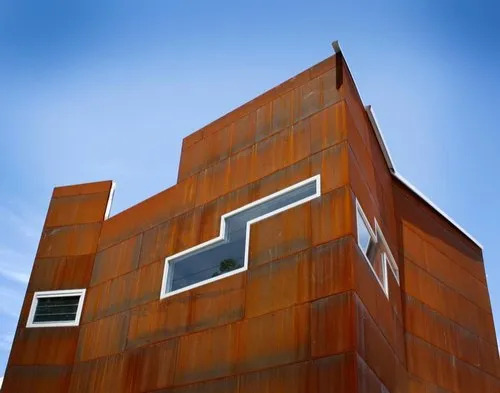 Amardeep Steel Center is a pioneer in the sector as a supplier and distributor of corten steel. We are the top suppliers of Corten Steel Products. When left untreated, these Corten Steel Pipes & Tubes acquire a distinctive outer layer patina. Taking this patina prevents the steel from corroding further.The Corten Steel material is also available in several forms and standards, including CORTEN A, CORTEN B, ASTM A423 GRADE 1, ASTM A847, ASTM A588, S355JOW, S355JOWP, S355J2W, S355J2WP, ASTM A709-50W, SAILCOR, and others. Affordable Corten Steel A Tubes can be found on the market.
Frequently referred to as "weathering steel," this group of steel alloys works without paint but eventually takes on a rust-like appearance from prolonged exposure to the elements. Weather resistant steel pipes must be more corrosion-resistant than other structural steels for a number of purposes. The oxide layer, commonly referred to as patina, offers weather protection in addition to corrosion resistance. Using uncoated weather-resistant steel tubes can lower surface treatment expenses. End-users of corten steel piping have grown more and more accustomed to roll-formed goods recently. Corten A is a weather-resistant steel alloy that is made to rust, forming a protective layer that lessens corrosion.

Because of its distinctive appearance and naturally oxidizing finish, corten steel tube is a popular option for architectural projects. Weather-resistant steel piping's ability to resist corrosion is determined by the chemical makeup of steel. Corrosion materials, which are used to make Corten Steel A panels, provide a protective patina covering with color when exposed to weather. It is essential that the design and execution of structures, as well as the carrying out of maintenance work, allow an impeded formation and regeneration of the protective rust layer in order to take advantage of the benefits of the higher atmospheric corrosion resistance of weather-resistant steel tubing compared to unalloyed steel.

The production of pipe and tube uses a variety of Corten Steel grade A. Weathering steels are actually marketed as Corten steels. They got this name because when they age, an oxide layer forms on their surfaces. We manufacture and sell a wide range of these products as a leading supplier of various Corten Steel Pipe and Tube products in various grades of Corten Steel A. The finest Corten steel is available from us.

Our goal at Amardeep Steel Center is to provide engineering services and high-quality profiles at competitive pricing. We feel we have a good reputation in the market because of our stellar record for quality, dependability, and customer service. We offer Corten A Steel Tubes for our valued clients at a fair price. Air preheaters also use Corten steel A tubes. We frequently provide Corten steel A tubes to power plants and oil & gas industries all around the world.
| | |
| --- | --- |
| Size: | ½" OD to 16" OD |
| Thickness: | 2-10mm |
| Shape: | round, square, rectangular and special sections |
| Length: | 1000mm -12000m |
| Type: | Weathering Steel |
| End: | Plain End, Bevelled End |
Corten Steel A Pipe & Tube Chemical Composition -
| | | | | | | | | | | |
| --- | --- | --- | --- | --- | --- | --- | --- | --- | --- | --- |
| Corten Steel Grade | C | Si | Mn | P | S | Al | V | Cu | Cr | Ni |
| Corten A | 0.12 | 0.25/0.75 | 0.20/0.50 | 0.07/0.15 | 0.030 | 0.015/0.06 | – | 0.25/0.55 | 0.50/1.25 | 0.65 |
Corten A Weathering Steel Tube & Pipe Mechanical Properties -
Corten Steel Grade
Yield Strength
MPa(min)
Tensile Strength
MPa
Elongation
% (min)
Corten A
355
470-630
20
Our Other Corten Steel Products
Other Types of Corten A Steel Pipes & Tube
| | |
| --- | --- |
| CORTEN A Pipe | CORTEN A Tube |
| CORTEN A Steel Pipes Supplier | CORTEN A Steel Tubes Stockholder |
| CORTEN A Steel Seamless Pipes Exporter | CORTEN A Steel Seamless Tubing Stockist |
| CORTEN A Steel Welded Pipes in UK | CORTEN A Steel Welded Tubes Distributor |
| CORTEN A Steel Square Pipes in UAE | CORTEN A Square Tubing Exporter |
| CORTEN A Rectangular Pipes in USA | CORTEN A Rectangular Tubing Trader |
| CORTEN A Steel ERW Pipes Dealers | CORTEN A Steel ERW Tube Dealer |
| CORTEN A Steel EFW Pipes Stockist | CORTEN A Steel EFW Tubes Trader |
| CORTEN A Weathering Steel Pipe | CORTEN A Weathering Steel Tubing |
| CORTEN A Steel Air Heater Pipes in Saudi Arabia | CORTEN A Steel Air Pre Heater Tubes |
| Corrosion Resistant CORTEN A Pipes in Europe | Corrosion Resistant CORTEN A Tubes Manufacturer |
Countries We Export Corten Steel A Pipes & Tubes To
Nigeria, Australia, Peru, China, Serbia, Vietnam, Kuwait, Bulgaria, Poland, Lebanon, Canada, Sri Lanka, Singapore, Bangladesh, Libya, Costa Rica, Hungary, Mongolia, Indonesia, Slovakia, Taiwan, Spain, Yemen, Kenya, Chile, Israel, Zimbabwe, Iraq, Colombia, Trinidad & Tobago,Tunisia, Nepal, Venezuela, Gambia, Mexico, Belarus, Estonia, Romania, Pakistan, Nigeria, India, Iran, Ireland, Japan, Qatar, Thailand, Bhutan, Chile, Netherlands, Azerbaijan, Belgium, Russia, Algeria, Turkey, Saudi Arabia, Finland, Sweden, Bolivia, Portugal, Mexico, United Arab Emirates, Argentina, Poland, Iran, Philippines, Ecuador, Afghanistan, Hong Kong, Italy, South Korea, Brazil, Macau, Morocco, Greece, Denmark, United Kingdom, Norway, Malaysia, Lithuania, Bahrain, Egypt, Germany, Tibet, Ghana, Namibia, Croatia, Kazakhstan, Ukraine, Czech Republic, Angola, South Africa, Jordan, France, Switzerland, United States, Puerto Rico, Austria, New Zealand, Oman, Gabon.
Cities We Supply Corten Steel A Pipes & Tubes To
Noida, Ho Chi Minh City, Caracas, Faridabad, Ludhiana, Rajkot, Jakarta, Ahmedabad, Milan, Granada, Karachi, Thane, Kuwait City, Los Angeles, Kolkata, New York, Dubai, Mexico City, Manama, Secunderabad, Sydney, London, Abu Dhabi, Doha, Hyderabad, Bengaluru, Singapore, Ulsan, Courbevoie, Busan, Ernakulam, Visakhapatnam, Gurgaon, Jamshedpur, Melbourne, Baroda, Kanpur, New Delhi, Dallas, Surat, Aberdeen, Nagpur, Lahore, Chennai, Cairo, Istanbul, Indore, Al Jubail, Jeddah, Nashik, Calgary, Bogota, Toronto, Port-of-Spain, Bangkok, Hong Kong, Mumbai, Al Khobar, Madrid, Colombo, Haryana, Muscat, Seoul, La Victoria, Chandigarh, Navi Mumbai, Geoje-si, Ankara, Dammam, Vadodara, Sharjah, Ranchi, Bhopal, Hanoi, Houston, Brisbane, Pimpri-Chinchwad, Edmonton, Algiers, Coimbatore, Vung Tau, Santiago, Lagos, Jaipur, Kuala Lumpur, Thiruvananthapuram, Ahvaz, Montreal, Gimhae-si, Pune, Perth, Atyrau, Moscow, Tehran, Rio de Janeiro, Riyadh, Petaling Jaya, Chiyoda, Howrah.