DIN 2391 ST52 Steel Tube & Pipe | ST 52.3 Carbon Steel Welded Tube Supplier
ST52 Seamless Pipe, DIN 2391 ST52 seamless pipes, ST 52.3 Steel Welded Tube, DIN 2391 ST52 Pipes Manufacturer, ST 52.3 DIN 17100 Honed Tube price in india, ST52 Carbon Steel Pipe distributor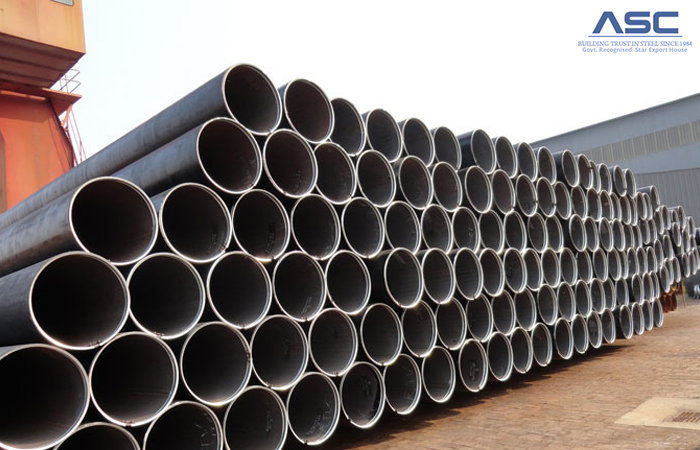 The DIN 2391 standard covers ST52 pipes. Carbon, silicon, manganese, phosphorus, and sulfur are used to make the DIN 2391 St52 Pipe. These pipes are very strong and were made to be more resistant to corrosion. DIN 2391 ST52 possesses excellent mechanical properties. They are made to have a minimum tensile strength of 600Mpa and a minimum yield strength of 520Mpa. The ST52 Steel Tube can be lengthened by at least 14% without being hard to work with. They come in random lengths of one, two, or any length up to 6000mm. ST52 Carbon Steel Pipe is made from steel that has more than 0.30% carbon in it. Both cold rolling and hot rolling are easy ways to make these pipes in different sizes. The ST52 Pipe is used a lot in oil and gas refineries, food processing, chemical industries, boiler systems, dairy and fluid pipelines, hydraulic systems, and so on. We are the top supplier of ST52 Pipe in Mumbai. Our goal is to sell high-quality goods at prices that are as low as possible.
The ST52 Seamless Pipe is made by making a hollow shell out of a billet. There is no need to weld or seam these pipes together because they are so strong. The 1.0570 Steel Smls Pipe is easy to bend or flange, and it can easily stand up to high temperatures and pressures. The outside diameter of these pipes ranges from 1/2NB to 60NB. Mild carbon steel is used to make the ST52 0 Seamless Tube, which is very reliable and easy to use. The outside of these tubes is smooth. They last for a long time and are easy to clean and take care of. DIN 1.0570 Seamless Steel Tubes is a pipe that is both cost-effective and effective. It can be used in corrosive environments. All industry standards are used to make these tubes, and they come in different shapes. When moving and supplying fluids over long distances, the DIN2391C Seamless circular tubes are the best choice. These tubes are also used in building in different ways. They are easy to clean and take care of. DIN 1629 ST 52 Plain-end seamless steel tubes are easy to connect to socket-weld connections or slip-on flanges. The run of these tubes makes a 90-degree angle, which makes them a great choice for small diameter piping systems. The DIN 17100 ST 52.3 Welded Tube is made by welding together two or more pieces of steel. The pipe sizes for these tubes range from 5mm to 1219.2mm. All of our products, including the ST52 NBK Steel pipes, can be made to fit your needs in terms of shape and size.

The ST52.3 Steel Cold Finished Tube is a manganese tube with a low amount of carbon. These tubes can take a lot of punishment and are easy to weld. They can work in temperatures below zero and come in a normalized form. The ST52 S355 Annealed Tube is made to be easy to work with and to bend easily. These tubes are not very hard or brittle, but they are magnetically strong. The amount of carbon in the ST52 Hydraulic Tube is not very high. Different industries choose this grade because it is easy to work with and has very good dimensional tolerances. The dimensions of the ST52 Honed Cylinder Tube are correct. The abrasion-resistant stones that are used to polish them make them harder and give them a great finish. ST52-4 Honed Tube can work under high temperatures and pressures. These grades have tubes that can be normalized, have a phosphate finish, or be oiled on the inside and outside. The finish on the ST52-3 BK Honed Tube Tube is smooth and precise. The surface of these tubes is made less tense, and the tubes are annealed to make them more durable in different situations. Our experienced staff uses the best ST52 Steel Material and cutting-edge technology to make the best products in this grade. The EN 1.0570 Precision Steel Tube is different from other types of steel tubes. Due to the way the pipe is made, these tubes are inexpensive and safe from corrosion and wear and tear. There are welded, seamless, and electric resistance tubes for the BKA ST52 Tube. They come in different shapes, such as square, rectangular, circular, hydraulic, and others. Fluids or gasses are moved through commercial and home systems using ST52 BK DIN 2391 Seamless Precision Steel Tubes. The outside diameter of these tubes ranges from 4mm OD to 125mm OD. DIN 2391 ST52 BK+S Seamless Tube has tighter security checks and can handle a wider range of sizes. The impact strength of these tubes is also good. The ends of this DIN 2391 ST52 NBK Tube can be plain, beveled, or threaded. Between 10 SWG and 20 SWG is the standard wire gauge for these pipes. Contact us if you have any questions or would like a quote on our products or the DIN 2391 St52 Pipe.
DIN 2391 St52 Pipe & Tube Specification
| | |
| --- | --- |
| Standard | DIN 2391 |
| Grade | ST52 |
| Size | OD (4-190mm) x WT (0.5-15mm) |
| Outer Dimensions | 4.0mm – 60.0mm |
| Wall Thickness | 0.5mm – 8 mm |
| Length | max 6000mm |
DIN 17100 ST52-3 Chemical Composition
| | | | | | | |
| --- | --- | --- | --- | --- | --- | --- |
| Standard | Grade | C | Si | Mn | P max | S max |
| DIN2391 | St52 | ≤0.22 | ≤0.55 | ≤1.6 | 0.025 | 0.025 |
DIN2391C Seamless Circular Tubes Mechanical Characteristics
Cold drawn(Mandatory)
Cold drawn(Soft)
Cold Drawn and Stress Release
Anneal
Normalizing
BK1)
BKW1)
(BKS)
(GBK)1)
(NBK)1)
Grade
Tensile
Elongation
Tensile
Elongation
Tensile
Yield point
Elongation
Tensile
Elongation
Tensile
Yield point
Elongation
N/mm2
%
N/mm2
%
N/mm2
N/mm2
%
N/mm2
%
N/mm2
N/mm2
%
St52
640
4
580
7
580
420
10
490
22
490~630
355
22
Tolerance of ST52 Honed Cylinder Tube
Outer Diameter Tolerance in MM
4-30
31-40
41-50
51-60
61-70
71-80
81-90
91-100
±0.08
±0.15
±0.20
±0.25
±0.30
±0.30
±0.40
±0.45
Wall thickness Tolerance
±10%
We Export To
New Zealand, Ukraine, Brazil, Azerbaijan, Angola, United Kingdom, Philippines, Oman, France, Algeria, Macau, Sri Lanka, Tibet, Norway, Mexico, Venezuela, Denmark, Russia, Bhutan, Estonia, Austria, Vietnam, Argentina, Turkey, Greece, Romania, Bahrain, Bangladesh, Afghanistan, Italy, Poland, Zimbabwe, Thailand, India, Kenya, Ecuador, Puerto Rico, Nepal, Malaysia, Bulgaria, Libya, Slovakia, Chile, Serbia, Australia, Poland, Iran, Costa Rica, Peru, South Korea, Iraq, Iran, Indonesia, Spain, Trinidad & Tobago,Tunisia, Qatar, Japan, Canada, Taiwan, Yemen, Mongolia, Czech Republic, Israel, Ghana, Egypt, Nigeria, Saudi Arabia, United Arab Emirates, Namibia, Hungary, South Africa, Hong Kong, Croatia, Colombia, Lebanon, Nigeria, Portugal, Finland, Pakistan, Jordan, Sweden, Belgium, Gambia, Lithuania, United States, Chile, Bolivia, Germany, Singapore, Ireland, Gabon, Kuwait, Switzerland, Mexico, Belarus, Kazakhstan, Morocco, China, Netherlands.
We Supply To
Kolkata, Madrid, Al Khobar, Sharjah, Perth, Haryana, Montreal, Navi Mumbai, Ranchi, Chiyoda, Toronto, Atyrau, Sydney, Petaling Jaya, Thiruvananthapuram, Bengaluru, Brisbane, Lagos, Tehran, Caracas, Melbourne, Ludhiana, Ahvaz, Algiers, Doha, Kuwait City, Istanbul, New Delhi, Aberdeen, Ankara, London, Howrah, Bogota, Ahmedabad, Noida, Singapore, Surat, Calgary, Cairo, Jaipur, Thane, Vung Tau, Port-of-Spain, Riyadh, Santiago, Hanoi, Colombo, Ernakulam, Mumbai, Jakarta, Dubai, Seoul, Karachi, Manama, Kuala Lumpur, Los Angeles, Chennai, Houston, Baroda, Geoje-si, Indore, Jamshedpur, Dammam, Ho Chi Minh City, Courbevoie, Vadodara, Lahore, Edmonton, Rio de Janeiro, Nashik, Muscat, Bangkok, Pune, Jeddah, Hong Kong, Visakhapatnam, Secunderabad, Dallas, Moscow, Gimhae-si, Milan, Ulsan, Coimbatore, Granada, Abu Dhabi, Kanpur, Faridabad, Busan, Mexico City, New York, Al Jubail, Gurgaon, Chandigarh, Nagpur, Rajkot, Pimpri-Chinchwad, Hyderabad, Bhopal, La Victoria.