Carbon Steel Forged Fittings
ASTM / ASME A 105 Carbon Steel Forged Pipe Fittings Manufacturer, CS Fittings Exporter, Carbon Steel Fittings Suppliers.
Carbon Steel Threaded Pipe Fittings, Carbon Steel Socket weld Pipe Fittings, Carbon Steel Forged Elbow Suppliers.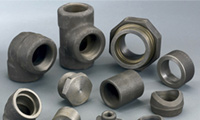 Amardeep Steel Centre is a leading player in Carbon Steel Forged Fittings Manufacturing in Mumbai, India. We offer a complete range of Carbon Steel Forged Fittings including Socket Weld Fittings, Threaded Fittings, Nipple, Branch Outlet Fittings, Bosses, Union Joint etc. These Carbon Steel Forged Fittings are designed as per the clients requirements and deman. These Carbon Steel Bend Pipe Fittings have good weldability, where all standard welding processes can be used. Our Carbon Steel Stub End Butt Weld Pipe Fittings are not quite as easily welded as the austenitic grades but low thermal expansion in duplex grades reduces distortion and residual stresses after welding. These ASTM A105 Carbon Steel Forged Fittings are widely used in various application industry like petrochemical, oil and gas, power generation, bulk liquid transportation, chemicals, pharmaceuticals etc.
Carbon Steel Forged Fittings Specification
Forged Fittings Specifications
ASTM A105/ ASME SA105
Carbon Steel Forged Fittings size
1/8" NB to 4" NB (Socketweld & Screwed-Threaded)
Carbon Steel Forged Fittings Dimensions
ASME 16.11, MSS SP-79, 83, 95, 97, BS 3799
Carbon Steel Forged Fittings Types
Socketweld Fittings, Screwed-Threaded Fittings
ASTM A105 Carbon Steel Forged Fittings Pressure Rating
Threaded End-2000lb/ 3000lb/ 6000lbs
Socket-weld End-3000/ 6000/ 9000lbs
Carbon Steel Forged Fittings Thread
NPT, BSPT, BSPP
Carbon Steel Forged Fittings Test Certificates
EN 10204/3.1B
Raw Materials Certificate
100% Radiography Test Report
Third Party Inspection Report, etc
Carbon Forged Fittings Origin & Mills
Japanese, Indian, USA, Korean, European, Ukraine, Russian
Specialized manufacturer of
90º Elbows, 45º Elbows, Tees, Cross, Couplings, Reducers, Inserts, Caps, Nipples, and Unions, Forged Pipe Fittings, Socket Weld & Threaded, Equal Tees & Reducing Tees, 90° & 45° Elbows, Plugs
Material Test Certificates (MTC) as per EN 10204 3.1 and EN 10204 3.2, Test Certificates certifying NACE MR0103, NACE MR0175
Carbon Steel Forged Fittings Chemical Composition
| Element | Composition %, Note C |
| --- | --- |
| Carbon | .35 max. (maximum) |
| Manganese | .60-1.05 |
| Phosphorus | .035 max. (maximum) |
| Sulfur | .040 max. (maximum) |
| Silicon | .10-35 |
| Copper | .40 max. (maximum), note A |
| Nickel | .40 max. (maximum), note A |
| Chromium | .30 max. (maximum), note A,B |
| Molybdenum | .12 max. (maximum), note A,B |
| Vanadium | .08 max. (maximum), note A |
Carbon Steel Forged Fittings Mechanical Properties
| &ASTM A105 Carbon Steel Forged Fittings Property | |
| --- | --- |
| Tensile Strength, min. (minumum): | 70,000 psi [485 MPa] |
| Min. (minumum). Yield Point: | 36,000 psi [250 MPa] |
| Reduction of area, min. (minumum): | 30% min. (minumum) |
| Hardness, HB, max. (maximum) | 187 |
Carbon Steel Forged Fittings Standard
American Steel Forged Fittings Standard
Standard Code
Standard Name
ANSI ASME SA-105
Forged fittings
ANSI ASME B16.11
Socket-welding and Threaded forged fittings
MSS SP-79
Socket-welding reducing Inserts
MSS SP-83
Class 3000 steel socket-welding and threaded unions
MSS SP-95
Swaged nipples and round plugs
MSS SP-97
SW,TH and BW ends for integrally reinforced forged branch outlet
Carbon Steel Forged Fittings Application Industries
Our Carbon Steel Forged Fittings are used in a wide range of applications and various industries. Below are a few of them:
Petrochemical Industry
Oil and Gas Industry
Chemical Industry
Power Plant Industry
Energy Industry
Pharmaceuticals Industry
Pulp & Paper Industry
Food Processing Industry
Aerospace Industry
Refining Industry
Carbon Steel Forged Fittings Export Destinations
Kuwait, Iran, China, Bhutan, Ukraine, Vietnam, Namibia, Hungary, Gabon, India, Finland, Sri Lanka, Saudi Arabia, Trinidad & Tobago, Thailand, Gambia, Belgium, Puerto Rico, Costa Rica, Croatia, Ireland, Tibet, Lebanon, Romania, Denmark, Bahrain, Poland, Germany, Taiwan, Spain, United States, Algeria, Chile, Portugal, Jordan, Nigeria, Bolivia, Kazakhstan, Ecuador, Norway, Oman, Mexico, Greece, Kenya, Indonesia, Bangladesh, New Zealand, Philippines, Singapore, Nigeria, Argentina, Mexico, Russia, France, Italy, Poland, South Korea, Colombia, Belarus, Peru, Nepal, Japan, Iraq, Yemen, Australia, Slovakia, Austria, Macau, Afghanistan, Switzerland, Venezuela, Tunisia, Czech Republic, Egypt, Bulgaria, Mongolia, Lithuania, Canada, Chile, Angola, Turkey, Netherlands, Israel, Iran, Sweden, Malaysia, Hong Kong, Brazil, United Arab Emirates, Azerbaijan, Morocco, United Kingdom, Qatar, Serbia, Libya, South Africa, Zimbabwe, Estonia, Ghana.
Domestic Supply of Carbon Steel Forged Fittings
Jeddah, Ahmedabad, Hong Kong, Sydney, Muscat, Rio de Janeiro, Edmonton, Petaling Jaya, Howrah, Vadodara, Los Angeles, Houston, London, Port-of-Spain, Faridabad, Bogota, Cairo, Mexico City, Sharjah, Singapore, Madrid, Moscow, Granada, Jakarta, Colombo, Algiers, Montreal, Chandigarh, New York, Chiyoda, Geoje-si, Ernakulam, Hyderabad, Al Khobar, Ahvaz, Melbourne, Pimpri-Chinchwad, Nagpur, Karachi, Doha, Busan, Secunderabad, Atyrau, Santiago, Rajkot, Coimbatore, Kolkata, New Delhi, Dubai, Jaipur, Navi Mumbai, Bengaluru, Gurgaon, Chennai, Ludhiana, Surat, Hanoi, Nashik, Dammam, Thiruvananthapuram, Tehran, Baroda, Ankara, Bangkok, Ranchi, Abu Dhabi, Calgary, Dallas, Aberdeen, Kuwait City, Pune, Haryana, Kuala Lumpur, Vung Tau, Lagos, Thane, Ho Chi Minh City, Caracas, Indore, Mumbai, Kanpur, Ulsan, Courbevoie, Visakhapatnam, Milan, La Victoria, Gimhae-si, Seoul, Istanbul, Bhopal, Jamshedpur, Noida, Toronto, Riyadh, Manama, Perth, Al Jubail, Brisbane.