Stainless Steel 904L Pipe Suppliers
ASTM A312 UNS N08904 Round Pipes, Exporter and supplier of 904L Tubing, EFAB Approved Stainless Steel 904L Pipe Stockist, SS ASTM A312 TP904L Seamless Tubes, SB673 UNS N08904 904L Electropolished Pipes, ASME SA312 Stainless Steel 904L EFW Pipe, ASTM A312 TP 904L Pipe Supplier in India.
SS 904L Tubing, UNS N08904 Pipes, ASTM A213 Stainless Steel 904L Tubes Supplier, AISI 904L Electropolished Pipes, SB677 UNS N08904 904L ERW Pipe, 904L Square Pipe, DIN 1.4539 Tubes, 904L SS Welded Tube Exporter, SS 904L Pipes, SS 904L Tubing Manufacturer in India.
904L is a low-carbon, high-alloy austenitic stainless steel that has not been stabilized. Copper has been added to the alloy of 904L Stainless Steel Pipe to make it more durable and stronger. As a result, it has a great resistance to powerful reducing acids like sulfuric acid. The decreased carbon content makes it easier to manufacture AISI 904L Welded Pipe to ASTM A312 specifications. These pipes could be used for high-temperature applications despite the decreased carbon content. The large amount of nickel in the ASME SA 312 TP904L alloy allows the pipes to perform exceptionally well even at high temperatures.
The material contains 23% nickel, 19% chromium, carbon, manganese, silicon, phosphorus, sulphur, and 4% molybdenum, with nitrogen at 0.1 percent. The composition gives the 904L Stainless Steel Tube its corrosion resistance and strength. The material has a yield strength of 220 MPa and a tensile strength of 490 MPa. The material also has a Rockwell B hardness rating of 70-90.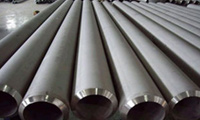 ASTM A312 UNS N08904 Seamless Pipe and 904L Tube Manufacturer
The tubes' dimensions differ according to ASTM, ASME, and API standards. The nominal bore size of seamless pipes ranges from 12 to 16 inches, ERW pipes from 12 to 24 inches, and electric fusion welded pipes from 6 to 100 inches. From 1/8 inch to 30 inch, the sizes are available. These ASTM B677 UNS N08904 ERW Pipes are designed to be bigger in diameter. There are a variety of schedules available, ranging from sch20 to XXS.
These ASTM B673 SS 904L pipes and SS 904L tubes are manufactured utilizing only the highest quality raw materials and cutting-edge technologies. WNR 1.4539 pipes and tubes are also designed with national and international product quality requirements in mind As a leading Stainless Steel Pipe & Tube Manufacturer we offer these SS 904L pipes & tubes in different sizes, grades, diameters and types like seamless, welded, fabricated, ERW and LSAW pipes. Amardeep Steel Center specializes in Manufacturing Stainless Steel 904L Werkstoff Nr. 1.4539 Pipes & Tubes with years of experience in exporting. Owing to a highly experienced group of qualified professionals especially for export purpose.The products we offer are manufactured following international quality standards and guidelines at the premises of our vendors. We offer the same in a variety of sizes, outer diameters, wall thicknesses, types, specifications, schedules, and lengths to satisfy the needs of our valued customers. These Stainless Steel 904L Pipes & Tubes are offered at very competitive prices to our clients.
Stainless Steel 904L Pipe Specification :

Specifications
:
ASTM A/ASME A213/SA213/A249/A269/A312/A358/B673/SB673/B677/SB677
Grades
:
SS 904l/ WNR 1.4539/ UNS N08904/ INOX 904L/ URANUS B6/ SEW 400/ AISI 904L/ SUS 904L/ Alloy 904L/ 2RK65/ RVS 904L
Dimensions
:
ASTM, ASME and API
Standards
:
GB/T 14975-2002, GB/T 14976-2002, GB 13296-91, API, ASTM A213, ASTM A312, ASTM A269, JIS G3459, JIS G3463, JIS G3448, DIN17458
904L Pipes & Tubes
:
1/2" NB - 8" NB
ERW 904L Pipes & Tubes
:
1/2" NB - 24" NB
EFW 904L Pipes & Tubes
:
6" NB - 100" NB
Tubing Size
:
1/8″NB TO 30″NB IN
Specialized in
:
Large Diameter Size
Schedule
:
SCH20, SCH30, SCH40, STD, SCH80, XS, SCH60, SCH80, SCH120, SCH140, SCH160, XXS
Type
:
Seamless / ERW / Welded / Fabricated / LSAW Pipes
Form
:
Round, Square, Rectangular, Hydraulic Etc
Length
:
Single Random, Double Random & Cut Length.
End
:
Plain End, Beveled End, Treaded
Equivalent Grades of SS 904L Pipes & Tubes :
| | | | | | | | |
| --- | --- | --- | --- | --- | --- | --- | --- |
| STANDARD | WERKSTOFF NR. | UNS | JIS | AFNOR | BS | KS | EN |
| SS 904L | 1.4539 | N08904 | SUS 890L | Z2 NCDU 25-20 | 904S13 | STS 317J5L | X1NiCrMoCu25-20-5 |
Production according to national and international standards (e.g. ASME, ASTM, API, EN, DNV, etc.)
UNS N08904 SS 904L Pipes/Tubes Chemical Composition:
Grade
C
Mn
Si
P
S
Cr
MO
Ni
CU
904L
Min
-
-
-
-
-
19.0
4.00
23.00
1.00
max
0.20
2.00
1.00
0.045
0.035
23.0
5.00
28.00
2.00
Stainless Steel 904L Seamless Pipe Mechanical Properties
Grade
Tensile Strength (MPa) min
Yield Strength 0.2% Proof (MPa) min
Elongation (% in 50mm) min
Hardness
Rockwell B (HR B)
Brinell (HB)
904L
490
220
35
70-90 typical
-
Rockwell Hardness value range is typical only; other values are specified limits.
Physical Properties of WERKSTOFF NR. 1.4539 SS 904L Square Pipes & Tubes

Grade
Density
(kg/m3)
Elastic Modulus
(GPa)
Mean Co-eff of Thermal Expansion (µm/m/°C)
Thermal Conductivity
(W/m.K)
Specific Heat 0-100°C
(J/kg.K)
Elec Resistivity
(nΩ.m)
0-100°C
0-315°C
0-538°C
At 20°C
At 500°C
904L
8000
200
15
-
-
13
-
500
850
ASTM B677 UNS N08904 ERW Pipes Suppliers, SUS 904L ERW, Check 904L Stainless Steel Tube Price, 904L Stainless Steel Pipe Weight Chart, Buy ASME SA 312 TP904L Round Pipe with a maximum hardness of 90 HR B, UNS N08904 Tube, SS DIN 1.4539 Pipes, Stainless Steel ASTM A213 TP904L Seamless Tubes, ASTM A213 SS TP904L Tubes Stockist.
Countries We Deliver:
We are one of the leading manufacturer, suppliers, exporter, stockiest and distributors of SS904l Plates. We are specialized in delivering our best quality products in all countries which are as follow as: Sweden, Japan, Italy, Spain, Russia, Romania, China, Korea, Ukraine, Turkey, Poland, USA, Europe, South Africa, Sri Lanka, Gulf, Kuwait, Iran.
Types Of Stainless Steel 904L Pipes & Tubes :
• ASTM B677 TP 904L Stainless Steel Seamless Pipes
• ASTM B677 TP 904L Stainless Steel Seamless Tubes
• ASTM B673 TP 904L Stainless Steel Welded Pipes
• ASTM B674 TP 904L Stainless Steel Welded Tubes
• SS 904L Seamless Pipes
• SS 904L ERW Pipes
• SS 904L EFW Pipes
• SS 904L Welded Pipes
• SS 904L Rectangular Pipes
• SS 904L Seamless Tubes
• SS 904L ERW Tubes
• SS 904L EFW Tubes
• SS 904L Welded Tubes
• SS 904L Rectangular Tubes