Naval Brass Plate & Sheet Supplier | C46400 Naval Brass - ASC
C46400 Naval Brass Plates Supplier, Naval Brass Sheet Manufacturer & Exporter, C46200 Naval Brass - Cold Heading (Wire), C46400 Naval Brass Lead-Free, C48200 Naval Brass Medium Lead, C48500 Naval Brass High Leaded, ASME SB171 Naval Brass sheets distributor, Naval Brass foil stockist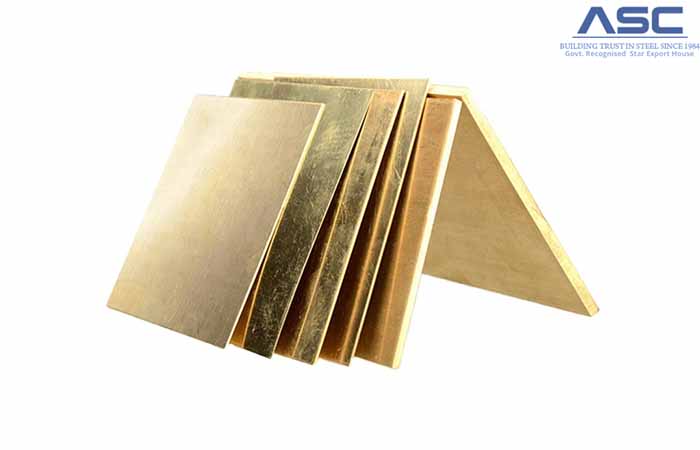 What is NAVAL BRASS?

NAVAL BRASS is a brass alloy that combines the duplex properties of Alpha-Beta Brasses. Tin inclusion in Copper-Zinc Alloy composition improves corrosion resistance and hardness, and little lead content is discovered. It also protects against dealloying caused by zincification in the alloy. As a result, it is more resistant to corrosion and the zinc effect.
Amardeep Steel is leading Naval brass Plate & Sheet Supplier. Naval brass plate is highly resistant to saltwater. It is used a lot for bending, upsetting, drawing, heading, shearing, and blanking. It is very popular because it is used in marine equipment and heat exchange baffles. Tin was added to this alloy so that it would be more resistant to corrosion. Since Naval Brass has Tin in it, it can resist dezincification very well. Dezincification is a type of dealloying that happens when corrosion takes out one of the parts of the alloy. In 1920, this kind of problem was found for the first time. When it was first found, it was given the name "Condenseritis."
Since it was first found, different types of alloys have been made to stop this from happening. Naval Brass is one of these alloys. Since it also has lead in it, Naval Brass can help make metal easier to work with. A lot of different kinds of marine hardware use ASTM B171 naval brass sheets. But because it doesn't wear down easily and has a very high tensile strength, it is used in valve stems, wear strips, fasteners, and bushings. Naval Brass is very resistant to galling, wear, stress corrosion cracking, fatigue, and fatigue. Even though its best use is in marine construction because it is strong, hard, and doesn't rust. Naval Brass works well in fresh water applications as well. It is also used in many different ways in the business world. Naval Brass Strip is also used on rigs, ships, and boats of all kinds. Naval Brass is also used to make bolts, screws, pins, and the cases for bullets and ammunition.
Naval Brass Plate & Sheet is a classic marine alloy that is high-strength and resistant to corrosion. It is made of 60% copper, 7.5% tin, and 39.2% zinc. As a well-known supplier of Naval Brass Plate, we get our material from approved mills around the world and keep a wide range of shapes, sizes, and grades in stock.
Naval Brass Plate specification
END PRODUCT
SPECIFICATION
Naval Brass Bar
ASTM B21
FEDERAL QQ-B-639
Naval Brass Bolts
ASTM F468
Naval Brass Nuts
ASTM F467
Naval Brass Plate
FEDERAL QQ-B-639
Naval Brass Rod
ASTM B21
Naval Brass Screws
ASTM F468
Naval Brass Shapes
ASTM B21
Naval Brass Sheet
FEDERAL QQ-B-639
Naval Brass Studs
ASTM F468
Naval Brass Sheet
Brass Gauge Chart*
Gauge
Number
Inches
MM
7
.1443
3.665
8
.1285
3.264
9
.1144
2.906
10
.1019
2.588
11
.09074
2.305
12
.08081
2.053
14
.06408
1.628
16
.05082
1.291
18
.04030
1.024
20
.03196
.812
22
.02535
.644
24
.02010
.511
26
.01594
.405
28
.01264
.321
30
.01003
.255
Chemical Composition for Naval Brass Plate
| | | | | | |
| --- | --- | --- | --- | --- | --- |
| | Cu | Fe | Pb | Sn | Zn |
| Min./Max. | 59.0-62.0 | .10 | .20 | .50-1.0 | Rem. |
| Nominal | 60.0 | - | - | .7 | 39.2 |
Applications of Naval Brass Plate
• Marine Applications
• Industrial Applications
• Wear Plates
• Fresh Water Applications
• Constructions

NAVAL BRASS PLATE is popularly known for its durable, flexible structure, and it is applicable in higher loads. It also withstands various effective surroundings with efficiency. Its higher accuracy of dimensions and precision makes it perfect to structural use with various tolerances. It is finely surface finished and formed in various techniques such as hot-rolled and cold-rolled according to application demand. It is easily machined to gain various sizes and shapes in many applications. Its weldability offers ease of connection to these plates.
Other Types Of Naval Brass Sheets / Plates
| | |
| --- | --- |
| Naval Brass Sheets / Plates | Naval Brass Sheets and Plates Stockist |
| Naval Brass Alloy Plate | Alloy 464 Sheets |
| Naval Brass Sheets Manufacturer | ASTM B171 Naval Brass Alloy Plates |
| ASTM SB 171 Naval Brass Sheets | C46400 Naval Brass Sheets |
| Naval Brass C46400 Cold Rolled Plates | Naval Brass Alloy C46400 CR Sheets |
| C46400 Naval Brass HR Sheets | Naval Brass C464 Hot Rolled Plates |
| UNS C46400 Sheets / Plates | Naval Brass Alloy Strips |
| Alloy C464 Sheets & Plates Supplier in Mumbai | C46400 Naval Brass Alloy Plates / Sheets |
| Alloy UNS C46400 Sheets / Plates Exporter | C46400 Naval Brass Coils |
| Naval Brass C46400 Shim Coils | C46400 Naval Brass Perforated Sheets |
We Export To
Mexico, Afghanistan, Italy, Switzerland, Czech Republic, Algeria, Angola, Brazil, Poland, Colombia, Slovakia, Trinidad & Tobago,Tunisia, Chile, Bahrain, Iran, Indonesia, Libya, Croatia, Austria, Norway, Estonia, Belarus, Philippines, Mexico, China, Hungary, Iraq, Jordan, Bolivia, South Africa, Australia, Chile, Israel, Bhutan, Hong Kong, Germany, Poland, Kazakhstan, Spain, Macau, Pakistan, Sri Lanka, Lebanon, Namibia, Sweden, Qatar, Kuwait, Canada, Gambia, Greece, Ukraine, United Arab Emirates, Puerto Rico, Turkey, New Zealand, Oman, Netherlands, Venezuela, Finland, Argentina, United Kingdom, Yemen, Nigeria, Nigeria, Portugal, India, South Korea, Tibet, Malaysia, Peru, Russia, Denmark, Ghana, Singapore, Bulgaria, Iran, Morocco, Ecuador, Gabon, Costa Rica, Azerbaijan, United States, Taiwan, Belgium, Lithuania, Thailand, Bangladesh, Japan, Egypt, Saudi Arabia, Mongolia, Romania, France, Serbia, Ireland, Nepal, Vietnam, Kenya, Zimbabwe.
We Supply to
Brisbane, Indore, Navi Mumbai, New York, Haryana, Gimhae-si, Los Angeles, Moscow, Milan, Nagpur, La Victoria, Baroda, Tehran, Atyrau, Kolkata, Granada, Coimbatore, Port-of-Spain, Abu Dhabi, Nashik, Algiers, Gurgaon, London, Courbevoie, Surat, Al Jubail, Lagos, Hyderabad, Muscat, Madrid, Noida, Howrah, Mumbai, Ernakulam, Secunderabad, Riyadh, Jaipur, Thiruvananthapuram, Jeddah, Ludhiana, Mexico City, Ahvaz, Aberdeen, Dammam, Dubai, Visakhapatnam, Busan, Petaling Jaya, Al Khobar, Karachi, Kuwait City, Sydney, Vung Tau, Rajkot, Ahmedabad, Caracas, Bhopal, Thane, Sharjah, Pimpri-Chinchwad, Chennai, Pune, Bogota, Seoul, Montreal, Faridabad, Istanbul, Houston, Hong Kong, Jamshedpur, Jakarta, Ulsan, Bangkok, Singapore, Manama, Melbourne, Edmonton, Rio de Janeiro, Colombo, Dallas, Ankara, Chiyoda, Vadodara, Lahore, Kuala Lumpur, Geoje-si, Chandigarh, Calgary, Doha, Hanoi, Santiago, Bengaluru, Ho Chi Minh City, Cairo, New Delhi, Perth, Ranchi, Toronto, Kanpur.