Copper Sheet & Plates Supplier
ETP Grade Copper Sheet, Manufacturer of ETP Grade Copper, Electrolytic Tough Pitch Copper, Copper Plate Supplier, Copper Sheet Grades, Copper Sheet Properties & Applications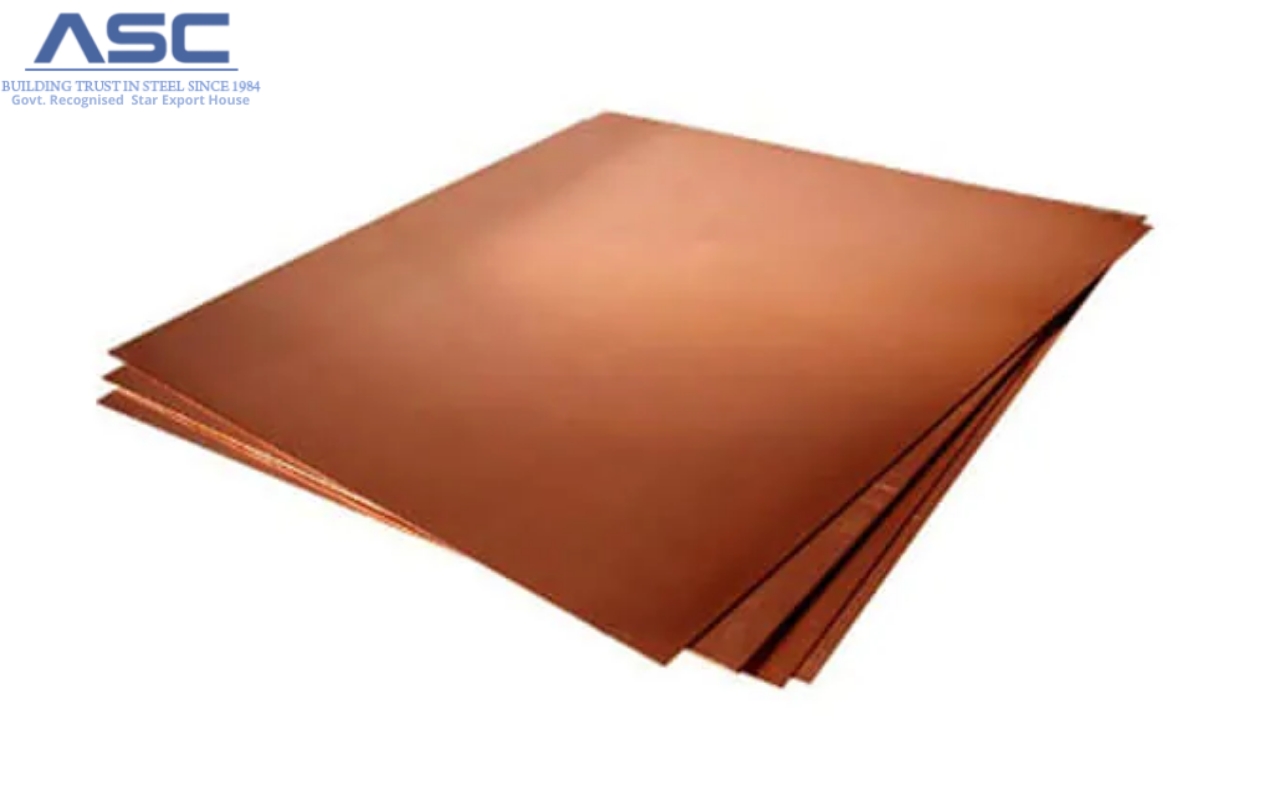 Amardeep Steel Centre is an ETP Grade Copper Plate & Sheet Supplier, Manufacturer in India, Mumbai. We offer our clients the highest quality material at the most cheap pricing. Quality is important to us, so we conduct stringent quality checks with the assistance of our expert quality team in order to provide the highest quality products to our clients. We are also regarded as leading Cu sheet providers for both domestic and international markets.
Copper is a non-ferrous metal with a wide range of applications. This is owing to its properties like heat conductivity and malleability. Aside from that, it is also visually pleasing. Copper Sheet is mostly composed of a brass or bronze alloy. This offers the sheets new properties. They are utilized in specific applications requiring high conductivity. They are widely utilised in the construction and electrical industries. Cu ETP Sheet & & Plate, which is utilized in electrical conductors, contains roughly 99% copper and is labelled as electrolytic tough pitch copper. They are single phased homogeneous alloys that are also known as oxygen free high conductivity copper. As a result, they are not susceptible to heat treatment.
Copper Sheet & Plate is extremely tough and resistant. It is resistant to corrosion and has excellent thermal and electrical qualities. Copper Foil Sheet is a versatile material with strong electrical and thermal conductivity. It is extremely versatile and may be used for anything from crafts to electricity. It's even used as an electric conductor in batteries, circuit boards, and solar energy devices. C101 Copper Sheet is the purest quality of oxygen-free copper available. It contains 99.99% Cu and has substantially lower impurity limitations than other Cu grades. It is appropriate for applications requiring ductility and strong conductivity.

The welding procedures approved by Astm B152 C10100 Copper Sheet are gas shielded arc welding, soldering, oxyacetylene welding, brazing, and butt welding. Spot and seam welding, as well as coated metal arc welding, are not preferred types of welding. Alloy 101 Of Copper Sheet has a hot forgeability of 65%. It is forged at temperatures ranging from 760°C to 871°C. The hot and cold working qualities of Alloy 110 Copper Sheet and Plate are outstanding. It is annealed at temperatures ranging from 371°C to 649°C.

Even under high vacuum, Astm B152 C10100 Copper Sheet has little volatility. Only when coated with a synthetic finish can copper obtain a mirror-like finish. The gauge number determines the thickness of the sheet. The greater the gauge number, the smaller the sheet size. Perforated copper sheet is widely used in vacuum tube anodes, coaxial tubes, coaxial cables, conductors, lead in wire, vacuum seal, bus bar, microwave tubes, klystron, and a variety of other applications. The absence of deoxidizer and high purity explain for the average conductivity of 101%.
Copper Sheets & Plates Specification
| | | |
| --- | --- | --- |
| Specifications | : | ASTM / ASME SB 62 |
| Size | : | 1000 mm x 2000 mm, 1220 mm x 2440 mm, 1500 mm x 3000 mm, 2000 mm x 2000 mm, 2000 mm x 4000 mm |
| Thickness | : | 0.1mm to 100 mm Thk |
| Form | : | Coils, Foils, Rolls, Plain Sheet, Shim Sheet, Strip, Flats Manufacturer and supplier |
| Finish | : | Hot rolled plate (HR), Cold rolled sheet (CR), 2B, No.3, No.4, HL, BA, 8K |
| Hardness | : | Soft, Hard, Half Hard, Quarter Hard, Spring Hard etc |
Copper Sheets & Plates Chemical Composition
14 gauge copper sheet
Others (total)
CU%
0.0-0.10
balance
Mechanical Properties of Copper Sheets & Plates
| | | | | |
| --- | --- | --- | --- | --- |
| Grade | Proof stress | Tensile strength | Elongation A50 mm | Hardness Vickers |
| Alloy 101 | 50-340 Mpa | 200-360 Mpa | 50-5% | 40 to 110 HV |
Alloy 110 Copper Sheet And Plate Physical Property
| | |
| --- | --- |
| Property | Value |
| Density | 8.92 g/cm³ |
| Melting Point | 1083 °C |
| Thermal Expansion | 16.9 x10^-6 /K |
| Modulus of Elasticity | 117 GPa |
| Thermal Conductivity | 391.2 W/m.K |
| Electrical Resistivity | 0.0203 x10^-6 Ω .m |
Copper Plate Weight Calculation Formula
Weight (kg) = Sectional Area (mm2) × Length (m) × Density (ρ, g/cm3)× 1/1000
Copper Plates & Sheets Benefits:
• Less heat built-up
• Better Surface Finish
• Longer tool life
• Enhanced deep hole-making
• Excellent weld-ability
• Suitability for mold cores, cavities, and inserts

Applications of Copper Plates & Sheets:
| | |
| --- | --- |
| Pressure vessels | Electric power generation |
| Busbars | Steam condensers |
| Heat exchangers | Wear parts for expansion joints |
| Hydraulic bushings | Welded tanks |
| Industrial controls | Bearings |
| Nuclear materials storage | Oil exploration |
| Pumps | Shipbuilding |
| Boat hulls | Offshore platform sheathing |
| Engraving plates | Plastic injection molds and dies |
| Metal casting molds and dies | |
Different Copper Foil Sheet Types
Copper Plate & Sheet Weight Per Meter
| | | | |
| --- | --- | --- | --- |
| THICKNESS (mm) | 4' x 2' | 2M x 1M | 2.5M x 12.5M |
| 0.35 | 2.37 | | |
| 0.4 | 2.68 | 7.14 | |
| 0.45 | 2.99 | 8.04 | |
| 0.5 | 3.3 | 8.93 | |
| 0.55 | 3.61 | 9.8 | |
| 0.6 | 3.92 | 10.72 | |
| 0.7 | 4.64 | 12.5 | |
| 0.8 | 5.3 | 14.29 | |
| 0.9 | 6.0 | 16.07 | |
| 1.0 | 6.6 | 17.86 | |
| 1.2 | 7.9 | 21.43 | 34 |
| 1.4 | 9.3 | | |
| 1.6 | 10.6 | 28.56 | 45 |
| 2.0 | 13.3 | 35.72 | 56 |
| 2.5 | 16.5 | 44.65 | 70 |
| 3.0 | 19.9 | 53.58 | 84 |
| 3.25 | 21.6 | 58.05 | 91 |
| 4.0 | 26.5 | 71.44 | 112 |
| 4.76 | 32.3 | 85.0 | 133 |
| 5.0 | 33.1 | 89.3 | 140 |
| 6.0 | 39.8 | 107.16 | 168 |
| 6.35 | 42.2 | 113.4 | 177 |
| 8.0 | 54 | | 224 |
| 9.525 | 64 | | 266 |
| 10.0 | | | 279 |
| 12.0 | | 215 | 335 |
| 12.7 | | 227 | |
| 15.8 | | 283 | |
| 16.0 | | 268 | |
| 19.0 | | 340 | |
| 20.0 | | 358 | |
| 22.0 | | 393 | |
| 25.0 | | 447 | |
| 30.0 | | 536 | |
| 40.0 | | 715 | |
| 45.0 | | 804 | |
| 50.0 | | 893 | |
| 75.0 | | 1340 | |
| 100.0 | | 1787 | |
| 150.0 | | 2680 | |
ASTM B152 C10100 Copper Sheet Dimension Chart
| | | |
| --- | --- | --- |
| Gauge | Dimensions | Lbs. Per Sheet |
| .032 | 36 X 96 | 35.72 |
| .040 | 36 X 96 | 44.65 |
| .050 | 36 X 96 | 55.8 |
| .063 | 36 x 96 | 72.56 |
Copper Plate HSN Code
| | |
| --- | --- |
| HSN | Description |
| 7409 | Copper plates, sheets and strip,of a thickness exceeding 0.15 mm Of refined copper |
Copper Shim Sheet Size Chart
| | |
| --- | --- |
| SIZES (INCH) | SIZES (mm) |
| .125" | 3.18mm |
| .134" | 3.40mm |
| .156" | 3.96mm |
| .187" | 4.75mm |
| .250" | 6.35mm |
| .312" | 7.92mm |
| .375" | 9.53mm |
| .500" | 12.7mm |
| .625" | 15.9mm |
| .750" | 19.1mm |
| .875" | 22.2mm |
| 1" | 25.4mm |
| 1.125" | 28.6mm |
| 1.250" | 31.8mm |
| 1.500" | 38.1mm |
| 1.750" | 44.5mm |
| 2" | 50.8mm |
| 2.500" | 63.5mm |
| 3" | 76.2mm |
Other types of Copper ETP Grade Sheets & Plates
| | |
| --- | --- |
| 20 Gauge Copper Sheet | Copper Sheet Roll |
| Beryllium Copper Sheet | 14 Gauge Copper Sheet |
| ASTM B152 C10100 Plate | Alloy 101 Ofe Ofhc Copper Sheet |
| 12 X 12 Copper Plate | 2 Inch Copper Plate |
| 3 Mm Cu Plate | 50mm Cu Plate |
| 4X8 Cu Plate | ASTM B280 4x8 size 0.5-20mm Cu metal sheet |