en8 seamless pipe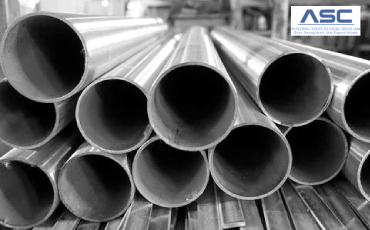 Amardeep Steel Centre provides EN8 seamless pipes, which are high-quality carbon alloy pipes. These pipes adhere to various international standards such as API 5L and ASTM A213. The EN8 steel pipes have a range of outer diameters from 15mm to 1000mm and wall thicknesses from 2mm to 50mm. There are two different standards for En8 seamless steel pipes, designated as 1, 2, and 3, each with varying specifications.

The EN8 seamless pipes can have different types of ends, including plain, bevelled, threaded with coupling or cap, chamfered, grooved, or screw-type. The pipes can be hot-rolled, cold-rolled, or cold-drawn. The surface finish of the pipes can be black painted, PE, PVC, PP coated, galvanized, colour-coated, anti-rust varnished, oiled, checkered, or epoxy coated.
These EN8 steel pipes find applications in various industries such as petroleum, oil and gas, boiler tubes, pipeline transport, machinery, construction, decoration, and other specialized uses. They can be welded using conventional welding methods and do not require any special procedures. The pipes can be either welded or seamless, with seamless pipes offering more dimensional accuracy. The Mild Steel En8 ERW Pipe has larger diameters compared to seamless pipes.

The choice between different pipe types depends on the application requirements, whether it requires precision or high-volume flow. In high-sensitive applications, the Alloy Steel En8 Seamless Pipe is often preferred. Additionally, the Grade En8 Pipes can be replaced with equivalent grades of pipes made from other materials when necessary.
Uses of Mild Steel En8 Pipes
General Purpose Axles
Pump Shafts
other general engineering parts
gears
spindle,
Studs & Bolts
car and general designing parts
Chemical Composition of EN8 Material
| | | | | | | |
| --- | --- | --- | --- | --- | --- | --- |
| STD | Element | Carbon | Manganese | Phosphorous | Sulfur | Silicon |
| BS 970 | EN8 | 0.36 To 0.44 | 0.60 To 1 | 0.05 | 0.005 | 0.10 To 0.40 |
EN 8 Steels Pipe Shape
EN8 Steel pipe in Mm: 8 To 1600
EN8 Carbon Steel pipe in MM: 10 To 1500 x 200 To 3000
EN8 Steel Cold Drawn pipe in Mm: 5 To 70
Mechanical Properties of EN8 Carbon Steel Pipe
Heat Treatment
Hardness
Tensile Strength
Yield Strength
Rp 0.2
A Minimum on
Impact
5.65√So
Feet LBS
KCV J
megapascal
megapascal
megapascal
Brinell hardness
N
152 & 207
550
280
–
16
15
16
510
146 & 197
245
–
17
–
–
R
700/850
465
450
16
25
28
201/255
Q
179 & 229
625 & 775
385
355
16
25
28
EN8 Steel Round Pipe Testing and Documentation
Micro Test
Flaring Test
Macro Test
Mechanical Testing
Pitting Resistance Test
Hardness Test
Intergranular Corrosion Test
Hydrostatic Test
Flattening Test
Chemical Analysis
UltraSonic Test
Radiography Test
Spec of Mild Steel En8 ERW Pipe
| | |
| --- | --- |
| Product Name | EN8 Seamless Pipe |
| Standard | ASTM A789, BS3605, ASTM A213, API 5L, JIS G3459,JIS G3463, ASTM A269,ASTM A778, GOS T9941, GB13296, EN 10216, A312, DIN 17456,ASTM A106,ASTM A53,ASTM A36,DIN 17457,DIN 17459 |
| Material | A178D, GR.C, ST52, Q195, A53-GR.B, A210C, A178C, 20G, STPT410, Q235, 20#, A106, STF410, P265TR2, STPT480, ST35.8, GR.B, Q345, ST45.8, P265TR1, P265GH, A106, A135-GR.B, etc |
| Usage | petroleum, light industry, chemical, food, medical, machinery, instrument |
| Ends | Plain, Beveled, Thread |
| Type | Cold-rolled /Hot-rolled /Cold-drawing |
| Surface | epoxy coating, anti rust oiled, anti rust varnished, Black painted, color coated, Galvanized, PE/PVC/PP coated, checkered |
| Pipe Marking | All Pipe are marked as follows: Supplier or Manufacturer's Name, Standard, Grade, OD, Thickness, Length, Heat Number |
Alloy Steel En8 Seamless Pipe Equivalent Grade
British Standards = 080M40
Werkstoff Number = 1.1186, 1.0511, 1.1189
AISI and ASTM = 1040, 1038, 1045
Japanese Industrial Standards = S45C, S40C
Grade En8 Pipe Standards
Standard = API5L, EN 10208-2, EN 10208-1, DIN 2470 1 1629
Line pipe dimentions = Thickness in Mm: 8 To 60, Width in Mm: 1500 To 4020, Length in MM:3000 To 18000
Surface Treatment = bare pipe, Epoxy Coating; varnish painting; 3PP, Oil painting; 3PE, FBE
End types = bevel, threaded, plain
Delivery = rolling, tempered and Quenched
| | |
| --- | --- |
| Std | grade |
| G3118 | SGV450, SGV410, SGV480 |
| G3103 | SB450, SB410, SB480 |
| ASTM / ASME SA 516 M | Gr65, Gr55, Gr60,Gr70 |
| G3115 | SPV235, SPV355, SPV315, SPV450, SPV410, SPV490 |
| G3124 | SEV295, SEV245, SEV345 |
| EN 10028 2 | P235GH, P295GH, P265GH, P355GH |
| ASTM / ASME SA 515 M | Gr65, Gr60,Gr70 |
| ASTM /ASME SA 285 M | B, A, C |
Countries We Supply and Export JIS G3445 STKM 13A Carbon Steel Tube
Namibia, Kazakhstan, Belarus, Kenya, Japan, India, Turkey, Finland, Gambia, Taiwan, Iran, United States, Ireland, Bangladesh, Canada, Mexico, Egypt, Israel, Bulgaria, Germany, South Africa, Australia, Greece, Vietnam, Lebanon, Thailand, Hungary, Bhutan, Poland, Ecuador, Austria, Puerto Rico, Argentina, Kuwait, Spain, South Korea, Venezuela, Algeria, United Arab Emirates, Czech Republic, Sri Lanka, Jordan, Oman, Chile, Chile, Iran, Ghana, Belgium, New Zealand, Romania, Zimbabwe, Italy, Serbia, Switzerland, Slovakia, Croatia, Saudi Arabia, Trinidad & Tobago,Tunisia, Poland, Hong Kong, Nepal, Peru, Ukraine, Nigeria, France, Tibet, Indonesia, Morocco, Iraq, Denmark, Yemen, Malaysia, Portugal, Mexico, Singapore, Bolivia, Pakistan, Russia, Brazil, Bahrain, Norway, Azerbaijan, Angola, Philippines, Gabon, Lithuania, Afghanistan, Macau, Nigeria, Libya, Qatar, Netherlands, Mongolia, United Kingdom, Estonia, Costa Rica, Colombia, Sweden.
Cities We Supply and Export JIS G3445 STKM 13A Carbon steel Tube
Sydney, Mumbai, Doha, Dammam, Ulsan, Vadodara, Manama, Lagos, Kuwait City, Kolkata, Vung Tau, Kuala Lumpur, Pimpri-Chinchwad, Dubai, Hyderabad, Indore, Geoje-si, Bangkok, Haryana, Bogota, Petaling Jaya, Coimbatore, Calgary, Lahore, Visakhapatnam, Jaipur, Gurgaon, Moscow, Mexico City, Istanbul, Edmonton, Milan, Courbevoie, New York, Port-of-Spain, Baroda, Algiers, Houston, Ahmedabad, Muscat, Chandigarh, Melbourne, Los Angeles, London, Busan, Hanoi, Colombo, Secunderabad, Seoul, Al Khobar, Al Jubail, Nashik, Atyrau, Thiruvananthapuram, Rajkot, Tehran, Montreal, Jakarta, Ernakulam, Ahvaz, Karachi, Faridabad, Kanpur, Granada, Cairo, Hong Kong, Sharjah, Chiyoda, Rio de Janeiro, Gimhae-si, Aberdeen, Noida, Jamshedpur, Howrah, Brisbane, Chennai, Bhopal, Riyadh, Singapore, Ludhiana, Thane, Nagpur, Ranchi, Pune, La Victoria, Ho Chi Minh City, Madrid, Surat, New Delhi, Bengaluru, Navi Mumbai, Santiago, Toronto, Dallas, Perth, Caracas, Ankara, Jeddah.