EN 10208-1 L235GA Tubes
L360GA L245NB, L290NB, L360NB, L415NB L245MB, L290MB, from China, China's leading Duplex Steel Pipe product market, With strict quality control Duplex Steel Pipe factories, Producing high-quality Seamless Steel Pipes EN 10208-1/2 L210GA, L235GA, L245GA, L290GA, L360GA L245NB, L290NB, L360NB, L415NB L245MB, L290MB, products.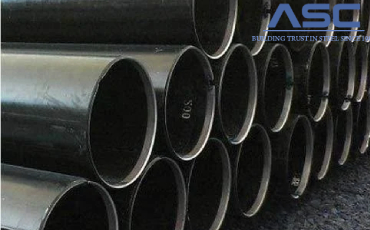 Amardeep steel pipes and tubes are also known as EN 10224 Grade L235 Carbon Steel Seamless Tubes. EN 10224 Grade L235 Tubes are low-cost Low Carbon Steel Tubes with a maximum carbon concentration of 017% and a manganese level of 080% that are easy to form and shape. These pipes are made in accordance with EN specifications and are commercially known as cs pipes or ms pipes. Although carburizing can raise the surface hardness of low-carbon steel pipes, they are not as hard as high-carbon steel pipes.
10217-1 L235GA Welded steel tubes Grade L235GA
| | |
| --- | --- |
| Grade : | L235GA |
| Number: | 1.0458 |
| Classification: | Non-alloy quality steel |
| Density: | 7.85 g/cm ³ |
| Standard: | EN 10208-1: 2009 Steel pipes for pipelines for combustible fluids. Pipes of requirement class A. Technical delivery conditions. |
| Equivalent grades: | No information |
EN 10208-1 L235GA Chemical composition % of steel
| | | | | | |
| --- | --- | --- | --- | --- | --- |
| C | Si | Mn | P | S | Al |
| max 0.16 | max 0.4 | max 1.2 | max 0.03 | max 0.03 | 0.015 - 0.06 |
EN 10208-1 L235GA Mechanical properties of steel
Rm - Tensile strength (MPa)
370-510
Rt0.5 - Yield strength for 0.5% total elongation(MPa)
235
A - Min. elongation at fracture (%)
23
Countries We Supply and Export JIS G3445 STKM 13A Carbon Steel Tube
Namibia, Kazakhstan, Belarus, Kenya, Japan, India, Turkey, Finland, Gambia, Taiwan, Iran, United States, Ireland, Bangladesh, Canada, Mexico, Egypt, Israel, Bulgaria, Germany, South Africa, Australia, Greece, Vietnam, Lebanon, Thailand, Hungary, Bhutan, Poland, Ecuador, Austria, Puerto Rico, Argentina, Kuwait, Spain, South Korea, Venezuela, Algeria, United Arab Emirates, Czech Republic, Sri Lanka, Jordan, Oman, Chile, Chile, Iran, Ghana, Belgium, New Zealand, Romania, Zimbabwe, Italy, Serbia, Switzerland, Slovakia, Croatia, Saudi Arabia, Trinidad & Tobago,Tunisia, Poland, Hong Kong, Nepal, Peru, Ukraine, Nigeria, France, Tibet, Indonesia, Morocco, Iraq, Denmark, Yemen, Malaysia, Portugal, Mexico, Singapore, Bolivia, Pakistan, Russia, Brazil, Bahrain, Norway, Azerbaijan, Angola, Philippines, Gabon, Lithuania, Afghanistan, Macau, Nigeria, Libya, Qatar, Netherlands, Mongolia, United Kingdom, Estonia, Costa Rica, Colombia, Sweden.
Cities We Supply and Export JIS G3445 STKM 13A Carbon steel Tube
Sydney, Mumbai, Doha, Dammam, Ulsan, Vadodara, Manama, Lagos, Kuwait City, Kolkata, Vung Tau, Kuala Lumpur, Pimpri-Chinchwad, Dubai, Hyderabad, Indore, Geoje-si, Bangkok, Haryana, Bogota, Petaling Jaya, Coimbatore, Calgary, Lahore, Visakhapatnam, Jaipur, Gurgaon, Moscow, Mexico City, Istanbul, Edmonton, Milan, Courbevoie, New York, Port-of-Spain, Baroda, Algiers, Houston, Ahmedabad, Muscat, Chandigarh, Melbourne, Los Angeles, London, Busan, Hanoi, Colombo, Secunderabad, Seoul, Al Khobar, Al Jubail, Nashik, Atyrau, Thiruvananthapuram, Rajkot, Tehran, Montreal, Jakarta, Ernakulam, Ahvaz, Karachi, Faridabad, Kanpur, Granada, Cairo, Hong Kong, Sharjah, Chiyoda, Rio de Janeiro, Gimhae-si, Aberdeen, Noida, Jamshedpur, Howrah, Brisbane, Chennai, Bhopal, Riyadh, Singapore, Ludhiana, Thane, Nagpur, Ranchi, Pune, La Victoria, Ho Chi Minh City, Madrid, Surat, New Delhi, Bengaluru, Navi Mumbai, Santiago, Toronto, Dallas, Perth, Caracas, Ankara, Jeddah.